BSBCUE307 – Identify Requirements of Customer Engagement Role Copy
Element 1: Identify Requirements of Customer Engagement Role
Performance Criteria Element 1
1.1 Identify specific customer engagement operations and relate these in industry-wide context
1.2 Identify role of customer engagement in relation to the organisation
1.3 Identify personal customer engagement role and operations
1.4 Relate personal operations to organisation's customer engagement objectives
1.5 Identify major components of customer engagement infrastructure
1.6 Relate personal operations to customer engagement infrastructure.
Identify Specific Customer Engagement Operations and Relate These in Industry-Wide Context
As stated in the introduction, the roles in a customer contact operations are varied and could include providing:
• Customer support
• Data collection
• Information services
• Marketing
• Sales
• Service provision
• Combinations of the above.
So, it is important to understand what is expected of you, in your role when you commence employment. If you are asked to perform in a role which is not agreeable or comfortable for you, then you and the organisation will fail to meet the goals.
Contact operations centres are a rapidly growing industry and there is much to be investigated given rapid developments in the industry which can already be seen through the evolution of contact centres into contact centres. Contact operations centres provide both telephony and Internet services to customers.
In 1995, contact operations centres were identified as the fastest growing workplaces in North America, Europe, and Australia. In Australia, expansion of the contact operations industry has been significant, estimated at 20-25% annually, surpassing growth levels in every other industry.
Globalisation is thought to be the motivator for the rapid growth coupled with the need for greater competitiveness. There are cost advantages and conveniences associated with replacing face-to-face customer and client relationships with remote contact centre operations. The developments in technology and telephony have allowed organisations to combine both to develop systems that control work flow and monitor performance. Technologies such as PABX and Automatic Call Distribution (ACD) have given businesses the ability to manipulate and customise service-delivery at a lower cost per transaction than alternative methods.
These advances in telecommunications and computer technology have also broadened the geographic mobility of operations, allowing organisations to extend service delivery to clients and customers beyond the boundaries of their countries.
The progression in technology have allowed contact centres to evolve; surpassing their traditional roles as efficient and effective marketing and transactional response mediums, to profit-centres, representing the first line of consumer contact for a multitude of business types. These demands have resulted in a shift from contact centres into contact centres that provide both telephony and Internet based services.
Contact centres perform a valuable role in all organisations. For many large organisations they are the 'face' of the business, the only area where the public can speak and interact with the organisation. They are set up in different configurations depending on the need of the organisation.
• Inbound Contact Centres
The inbound contact centres are those that only receive the calls usually on toll free numbers from the customers. These contact centres provide 24 hour service to all customers.
The primary goal of these contact centres is to receive product orders, help customers, to find a dealer location.
• Outbound Contact Centres
Outbound contact centres deal with telemarketing and product promotion. It requires technical experience and expertise to ensure the clients that you are the company that is best. • Web Enabled Contact Centres
Web enabled contact centres are prevailing throughout the world rapidly. Web enabled contact centres deal with online transaction and live chat.
• Telemarketing Contact Centres
These contact centres deal with telemarketing and promotion of services. Their primary goal is to promote sales and customer satisfaction.
• Phone Contact Centres
They are usually automated contact centres that rout the calls and uses Interactive Voice Response (IVR) technology. These contact centres can be used for asking bank account balances, pin numbers, telephone numbers, and other information. Computer replies pre-recorded answers.
Identify Role of Customer Engagement in Relation to the Organisation
Customer service leaders and managers are all striving to develop a customer-driven workforce. This is seen as being the key role in having a successful business.
Peter Drucker said: "The purpose of business is to create and keep customers," so every business needs to organise its service delivery system around the needs of its customers. This means firstly designing a customer service strategy that will put customers at the heart of your business. The question that must be asked is:
"Are we doing everything we can to create the best possible experience for our customers?"
The contact centre people are the ones to leave a first impression – and a lasting impression – on customers. They also intimately understand customers' frustrations and they often know how issues can be resolved, but are not empowered to make the necessary changes. It is critical for organisations to retain every customer and maximise their lifetime value.
The customer contact centre staff are the living embodiment of the organisational vision and mission. They should be empowered to quickly respond to customer problems. Processes should be developed to allow the actions of the customer contact centre team to be seamless, designed from the customers' viewpoint, and be consistently reviewed to make transactions simple and stress free. This includes making it easy for customers to complain, remember complainants are your most loyal ambassadors if their complaints are handled professionally. Organisations seldom achieve competitive advantage through their technology and processes alone; it may add value but only if there is a parallel investment in their people who have to work with the technology to assist customers.
Identify Personal Customer Engagement Role and Operations
The responsibilities of a person employed in a customer contact centre could include:
• Receive inbound calls
• Answer participant questions, as well as question participants to obtain full understanding of what information is being requested
• Document all calls with regards to participant enquires accurately
• Monitor Call Tracking for responses from administrative team so call returns are done in a timely fashion
• Follow-up with participants within a 24-hour period in regards to the initial phone call – even if it is to just touch base and let participant know inquiry is still being researched
• Knowledge of products
• Provide quality customer service on every call
• Communicate clearly and effectively with participants
• Promote good listening skills
• Manage length of calls
• Recognising and managing assertive customer calls
• Promote teamwork and contact centre success
• Listen to and critique recorded conversations for purposes of improving customer skills
• Organise and prioritises duties.
By performing their duties effectively, messages are despatched around the organisation and the customer receives satisfaction in terms of their relationship with the organisation. If there is a flaw or system failure, it creates a very poor public image. As the contact centre team are the 'face' of the organisation, it is essential that they present a customer-centric focus and behaviour, and do their job effectively to avoid delays or customer disappointment.
Relate Personal Operations to Organisation's Customer Engagement Objectives
We established the importance of the contact centre staff in presenting the 'face' of the organisation and how their response to the customers will largely determine the customer experience and certainly strongly influence how the customer feels about doing business with that organisation.
It is essential for you to seek out the relevant objectives that have been established for your organisation. You will find that they are kept with the Vision, Mission, and Goals. Your manager will be able to advise you also.
However, begin by looking at the material you received when you completed your induction process. It is very likely that a copy of these objectives and how they relate to your role are contained in that pack.
By performing well, you contribute to the achievement of these goals.
Identify Major Components of Customer Engagement Infrastructure
Infrastructure is the basic physical and organisational structures and facilities (e.g., equipment and power supplies) needed for the operation of a contact centre. These could include:
• Automatic Call Distribution System (ACD)
Automatic Call Distributor (ACD), also known as Automated Call Distribution, is a device or system that distributes incoming calls to a specific group of terminals that agents use. It is often part of a computer telephony integration (CTI) system.
Routing incoming calls is the task of the ACD system. ACD systems are often found in offices that handle large volumes of incoming phone calls from callers who have no need to talk to a specific person but who require assistance from any of multiple persons (e.g., customer service representatives) at the earliest opportunity
The system consists of hardware for the terminals and switches, phone lines, and software for the routing strategy. The routing strategy is a rule-based set of instructions that tells the ACD how calls are handled inside the system. Typically o respond to a given incoming call. To help make this match, additional data are solicited and reviewed to find out why the customer is calling.
Originally, the ACD function was internal to the Private Branch Exchange (PBX) of the company. However, the closed nature of these systems limited their flexibility. A system was then designed to enable common computing devices, such as server PCs, to make routing decisions. For this, generally the PBX would issue information about incoming calls to this external system and receive a direction of the call in response.
An additional function for these external routing applications is to enable CTI. This allows improved efficiency for contact centre agents by matching incoming phone calls with relevant data on their PC via screen pop.
A common protocol to achieve this is Computer-Supported Telecommunications Applications (CSTA); however, almost every PBX vendor has its own flavour of CSTA, and CSTA is quite hard to program because of its complex nature. Various vendors have developed intermediate software that hides these complexities and expedites the work of programmers.
Also, these protocols enable contact centres consisting of PBXs from multiple vendors to be treated as one virtual contact centre. All real-time and historical statistical information can then be shared amongst contact centre sites.
• Contact Management Systems
These systems are used to manage contacts and are very useful for recording and tracking literally all stages in the process of working with any prospect. This starts with first contact and runs all the way up to final results.
Using an interface, contact centre managers can view data and receive customised threshold and exception alerts, all in real time. They can also view historical reports to help them analyse trends, establish performance benchmarks, and plan new marketing or customer-service campaigns. These reports can usually be customised to suit the needs of the business. With easy access to real-time and historical data, managers can make faster, better informed decisions, for more effective contact-centre operations
• Information Technology Networks and Software Systems
Information Technology (IT) is the branch of engineering that deals with the use of computers to store, retrieve, and transmit information. The acquisition, processing, storage, and dissemination of vocal, pictorial, textual, and numerical information by a microelectronics-based combination of computing and telecommunications are its main fields. The design of the computer networks and installation or development of appropriate software is the job of IT professionals.
• Internet and Intranet Services
This is the world-wide network of computers accessible to anyone who knows their Internet Protocol (IP) address – the IP address is a unique set of numbers (such as 209.33.27.100) that defines the computer's location. Once your browser has the IP address it can access the remote computer. The actual server (the computer that serves up the web pages) does not reside behind a firewall – if it did, it would be an Extranet. It may implement security at a directory level so that access is via a username and password, but otherwise all the information is accessible.
The Intranet is a network that is not available to the world outside of the Intranet. If the Intranet network is connected to the Internet, the Intranet will reside behind a firewall and, if it allows access from the Internet, will be an Extranet. The firewall helps to control access between the Intranet and Internet to permit access to the Intranet only to people who are members of the same company or organisation. In its simplest form, an Intranet can be set up on a networked PC without any PC on the network having access via the Intranet network to the Internet.
For example, consider an office with a few PCs and a few printers all networked together. The network would not be connected to the outside world. On one of the drives of one of the PCs there would be a directory of web pages that comprise the Intranet. Other PCs on the network could access this Intranet by pointing their browser (Netscape or Internet Explorer) to this directory – for example U: inetindex.htm. From then onwards, they would navigate around the Intranet in the same way as they would get around the Internet.
• Interactive Voice Recognition Systems (IVR)
IVR is a telephony technology that allows interaction between callers and a phone system to acquire or enter information into a database. More and more companies are turning to IVR to help reduce the cost of common sales, service, collections, inquiry, and support calls to and from their company. Voice Regongnition Information (VRI) is one of the most common telephone functions in use across the business community and is capable of bringing remarkable benefits to an organisation.
IVR, tailored to an organisation's requirements, can provide much the same information as a live operator at a fraction of the cost both financially and resourcefully. To put things in their most simple form, IVR systems let callers interact with an organisation via its IVR. IVR hugely reduces customer call handling costs, and can be introduced into an organisational environment in a number of ways. The most basic IVR simply allows you to record a message that is played when a customer presses the appropriate number on the phone keypad. The more advanced VRI allows callers to interact with an organisation on a much greater scale. For example you could set up an IVR to retrieve specific account information that is relayed to the caller through the implementation of text-to-speech recognition technology. IVR allows IVR systems to read specific information from a database and then relate that information back to the customer in spoken format.
• Other Centre-Specific Systems
The Service Management and Customer Support features used in Contact Centres, along with the Sales Force Automation (SFA), are among the most common functionalities of a Customer Relationship Management (CRM) solution. Very often, the contact centre runs using an ACD solution without integrating it with a CRM solution. The growing number of contact centres on numerous market verticals proves that contact centres have become more complex, with a more diverse customer base and with particular needs regarding customer management as well as with multiple products and multiple marketing channels to manage.
A contact centre solution needs to bind together multiple systems such as ACD, CRM, financials, and other business specific systems. When a special system is developed, it becomes a centre-specific system.
• Service Level and Call Data Reporting Systems
The Service Level and Call Data Report Systems provide the following information for the target-groups clients and IT Management:
 Recipients
 Measurements pertaining to client satisfaction
 For all IT Services

Details of Service usage

Volume details
Resource usage

Agreed Service Levels
Attained Services Levels
Trend analyses
Changed IT Services

Newly added IT Services
Changed SLAs
Out phased IT Services

Special occurrences

 In the past (prolonged Service failures etc.)

Type of occurrence
Causes
 Counter-measures for the elimination of the failure
Measures for the future avoidance of similar failures

 In the future (e.g. planned prolonged downtimes to Services)

Complaints

Overview
Status
Measures

 Important measures for the enhancement of the Service quality (taken from the Session Initiation Protocol (SIP.)
• Security Systems
Information security is a significant concern for banks, mobile phone companies and other businesses that use contact centres or business process outsourcing (BPO). There have been many instances of theft of personal data reported from contact centres.
Contact Centre's can use internal procedures to minimise risk. Such mitigation measures include but are not limited to:
1. Creating a paperless environment, preventing employees from writing down and removing information by ensuring that all work processes are done on the computer, without having to record anything on forms or notes.
2. Prohibiting the use of cell phones and cameras on the floor.
3. Prohibiting paper, pens and digital recording devices from being brought onto the floor.
4. Preventing internet access for employees on the floor.
5. Limiting functionality and access of personal computers or terminals used by contact centre agents (for example, disabling USB ports). Companies may also use data loss prevention software to block attempts to download, copy, or transmit sensitive electronic data
• Telephony Equipment
In telecommunications, telephony encompasses the general use of equipment to provide communication over distances, specifically by connecting telephones to each other. The technology is associated with the electronic transmission of voice, fax, or other information between distant parties using systems historically associated with the telephone, a hand-held device containing both a speaker or transmitter and a receiver. It is commonly referred to as the construction or operation of telephones or telephonic systems and as a system of telecommunications in which telephonic equipment is employed in the transmission of speech or other sound between points, with or without the use of wires.
Relate Personal Operations to Customer Engagement Infrastructure
The job role dictates the tasks of a position. The tasks are described in the job description. There you will find the relationship between your personal operation within a position and the equipment that you are required to use.
Your personal operation should also focus on achieving team goals. Achievement of team goals contributes to the achievement of the organisational goals. Individual efforts all count. Do you know what the organisational goals are? Do you understand the importance of the tasks you perform in terms of the 'bigger picture'? If not, discuss this with your Manager. They will welcome being able to inform you because it will allow you to do your job better.
Committed team players show commitment, may even be soft-spoken, but they aren't passive. They care about what the team is doing and they contribute to the organisational success without needing a push. They look beyond their own piece of the work and care about the team's overall work. In the end, their commitment is about winning and seeing the team succeed, knowing they have contributed to this success. Winning as a team is one of the great motivators of employee performance. Good team players have and show this motivation.
By now you are probably getting the picture that there is a great deal to learn and apply to be a success in your job. You need to know and understand the organisational goals so that the team goals and what you do day-by-day make sense. It is easier to do a job well if you understand not only the 'how' but also the 'why'.
But there is more – knowing how to use the myriad of equipment that you face is crucial not only to complete your tasks, but to ensure customer satisfaction. If you are not clear on all of these points, or struggle with parts of the equipment, ask for help earlier rather than later.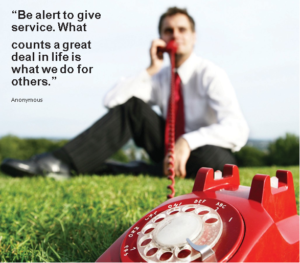 Key Points
• Identify specific customer contact operations and relate these to the industry-wide context

• Identify the role of customer contact in relation to the organisation

• Identify personal customer contact role and operations

• Relate personal operations to organisation's customer contact objectives

• Identify the major components of the customer contact infrastructure

• Relate personal operations to customer contact infrastructure.