CPPCLO3003 – Apply safe work practices to cleaning tasks Copy
Element 2: Apply safe work practices to cleaning tasks
2.1 – Cleaning products and equipment are brought into position with cleaning trolley or other suitable form of transport, using safe work practices
By the end of this chapter, the learner will be able to:
Bring cleaning products and equipment into position using a trolley or other suitable transport

Use safe work practices when transporting cleaning products and equipment.
Transporting cleaning equipment
When using cleaning products and equipment, it is very useful to have a cleaning trolley or other suitable form of transport to move everything around on. This will allow you to collect everything you need from the storage area and transport it around safely and securely as you are working. Cleaning trolleys or carts can store buckets, detergents, cleaning cloths, brooms and mops, etc. making it easier and more convenient for cleaners, instead of them having to carry everything around or go back and forth to collect it. They are also easily accessible from standing up, which can prevent physical strain and back injuries from bending down and picking up equipment. Cleaning trolleys are an important and useful piece of equipment to have, especially when you are cleaning large areas, as they provide plenty of storage space. You should make sure you choose a trolley or cart with smooth running wheels so it can be moved around easily and effortlessly.
Safe work practices
It is important to use safe work practices when transporting cleaning products and equipment. There could be health and safety risks involved such as unloading the trolley and lifting heavy equipment etc. so it is important to be aware of potential risks and look for ways to avoid injuries. Your organisation should provide you with safe work procedures which will document the risks associated with a work task and list appropriate risk control measures into a sequence of steps. It is important that you follow these procedures at all times to ensure you are working safely.
Modified from source: SafeWork NSW, Safe work procedures: http://www.safework.nsw.gov.au/media/publications/health-and-safety/small-business-safety-pack/serious-about-safe-business-safe-work-procedures.
2.2 – Techniques to prevent trips, falls, and repetitive sprains and strains are identified and implemented
By the end of this chapter, the learner will be able to:
Identify techniques to prevent accidents in the workplace

Implement appropriate techniques to prevent trips, falls, sprains and strains.
Implement techniques
Slips and trips are the most common cause of injuries in the workplace. They can be very dangerous and can sometimes result in serious injuries. Injuries caused by slips and trips can include musculoskeletal injuries, cuts, bruises, fractures and dislocations. Accidents can occur for many reasons, so it is important to identify potential hazards and implement techniques to prevent them from happening.
Main causes of slips, trips and falls include:
Uneven floor surfaces
Unsuitable floor coverings
Wet floors
Spillages
Changes in floor levels
Trailing cables on the floor
Obstacles and trip hazards
Distractions around you
Unsuitable footwear
Poor lighting
Poor housekeeping.
In order to prevent accidents from occurring in the workplace, you will need to develop a risk management plan which identifies, assesses and controls safety hazards and risks. Firstly, you will need to identify potential hazards to determine exactly where accidents can or have occurred in the workplace. You should do this by talking to supervisors, conducting inspections and reviewing records such as incident and injury reports. You will then need to assess the level of risks by considering the questions below:
How many people are exposed to the risk
What the consequences of the accident could be
How often the situation occurs.
After assessing the risk, you should decide what needs to be done to eliminate or control it and how quickly these measures need to be implemented. The different techniques that could be used to eliminate or reduce the risks of slips and trips are displayed in the hierarchy of control below, in order of effectiveness starting from the top. Depending on the level of risk, you may need to use a range of techniques to reduce it. Before implementing the techniques permanently, it is a good idea to trial them first to check whether they would work. You will also need to monitor and review them to ensure they are effective, have been used correctly by staff and have not made the situation worse.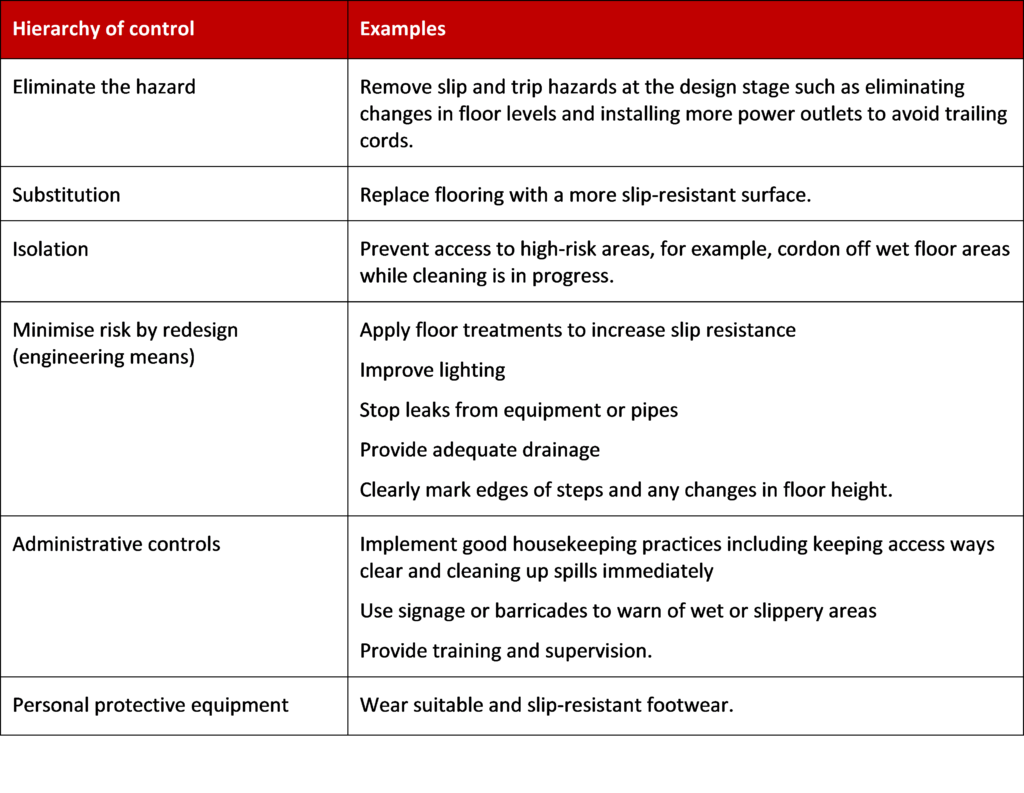 Healthy Working Lives: Slips, trips and falls: http://www.healthyworkinglives.com/advice/workplace-hazards/falls.
Work Safe: https://www.worksafe.qld.gov.au/__data/assets/pdf_file/0005/82868/slips_trips_falls_guide.pdf.
2.3 – Cleaning tasks conducted at heights are undertaken using access equipment prepared and placed for the task
By the end of this chapter, the learner will be able to:
Prepare equipment to undertake cleaning tasks at heights and put in place

Use suitable access equipment to conduct cleaning tasks at heights.
Identify access equipment
You may be required to conduct cleaning tasks at heights, which could include working from ladders cleaning windows and roofs etc. so it is important to select the right access equipment required for the job. When cleaning at heights, you will need to be very careful and aware of your surroundings to prevent any accidents happening.  Injuries sustained from falls are usually due to falls from equipment, such as ladders, platforms, scaffolds and stairs, etc. so you will need to ensure that you use suitable and secure equipment for the task and make sure it isn't damaged or faulty. It is vital that all access equipment used is properly maintained and inspected on a regular basis to ensure it is fit for the purpose and safe. Anyone erecting and using the equipment must also be trained and competent to do so.
Different types of access equipment that may be required:
Elevated work platform:

must only be used on a level, firm ground
only use it with outriggers and stabilisers
there should be a trained operator at ground level
safety harnesses must be worn while on the platform
keep the platform within safe working limits and radius, taking wind speeds into account.

Ladders:

should only be used for access or work of a short duration
should be erected at the correct angle (4 up to 1 out)
must be positioned close to the work to avoid over-reaching
the base of the ladder should also be protected to prevent people bumping into them or something knocking them over
do not use to perform difficult or hard to reach tasks, or on uneven surfaces
do not use in wet conditions.

Scaffolding:

should only be erected by a competent person
should have a height to base dimension ratio not exceeding 3 to 1 indoors, or 2.5 to 1 outdoors
will need to have stabilisers deployed as necessary to meet the correct height to base ratio
you will need to use outriggers or stabilisers if it is above 5 metres high
all casters should be firmly locked before use
there should be ladder access to the working platform
it should never be moved while the tower is occupied
should be regularly inspected and maintained by a competent person to make sure it is safe to use
inspections on the scaffold and its supporting structure should take place after any incident that could affect its stability, such as a severe storm, after any repairs have taken place, and at least every 30 days.
Stepladders:

should always be spread to the full extent and locked
should not be used on the top platform
avoid using the top tread, tool shelf or rear part of the steps as a foot support
only one person should be on stepladders at a time
must be appropriate and of the correct grade for the intended use.
Modified from sources: Healthy Working Lives, Working at heights: http://www.healthyworkinglives.com/advice/work-equipment/working-at-height.
2.4 – Cleaning tasks undertaken in enclosed spaces are conducted using safe work practices that prevent chemical exposure / 2.5 – Cleaning tasks undertaken while working in the vicinity of building occupants are conducted using safe work practices
By the end of this chapter, the learner will be able to:
Conduct cleaning tasks safely in enclosed spaces

Conduct cleaning tasks safely while working in the vicinity of building occupants

Use safe work practices to conduct all cleaning tasks, assessing and eliminating or controlling risks.
Cleaning in enclosed spaces
You may be required to undertake cleaning tasks in enclosed spaces, and this can be dangerous for cleaners as it could expose you to harmful chemicals. An enclosed space is anywhere which has limited access and no ventilation. It is important to assess, eliminate or control the risks before entering into a confined space to make sure it is done safely, and you should also be fully trained and prepared.
What is a confined space?
A confined space means an enclosed or partially enclosed space that:

is not intended or designed primarily as a place of work
is at atmospheric pressure while persons are in it
may have an atmosphere with potentially harmful contaminants, an unsafe level of oxygen, or stored substances that may cause engulfment
may (but not need) have restricted means of entry and exit.
Confined spaces can be extremely dangerous because the hazards are not always very apparent. The dangers of confined spaces could include:
Biological hazards, such as bacteria
Exhaust gases
Flammable gases
Toxic gases
Low oxygen levels
Loud noise
Extreme temperatures
Falling objects from height
Slips, trips and falls
Manual handling accidents
Electricity hazards
Radiation
Poor access/egress
Poor visibility
Entrapment
Risk of engulfment.
When you are working in enclosed spaces, it is important to use safe work practices and plan ahead before entry to make sure you are not putting yourself in danger and to prevent chemical exposure, which can have very serious consequences.
How to make entry into confined spaces safer:
Find out what is in the confined space before entry to assess the risks
Assess the air in the confined space beforehand; don't assume it will be safe
Plan safety procedures for working inside the confined space
Make sure that any cleaning products or equipment used in the confined space are properly assessed and are safe to use
Make sure anyone going into a confined space has appropriate protection,e. supplied with personal protective equipment (PPE)
Devise emergency and rescue procedures and rehearse them regularly to make sure you are prepared
Make sure people who work inside the confined space are fully trained and understand the safety procedures.
Cleaning in the vicinity of building occupants
When undertaking cleaning tasks in the vicinity of building occupants, for example, in a busy office environment, it is important to ensure you work professionally and safely to avoid causing harm or disruption to others. Under the Work Health and Safety Act (WHS), a person conducting a business or undertaking has the primary duty to ensure, so far as is reasonably practicable, that workers and other persons are not exposed to health and safety risks arising from the business or undertaking. They have a duty to take reasonable care for their own health and safety and they must not adversely affect the health and safety of other persons.
It is important to conduct cleaning tasks in a busy environment using safe work practices and following health and safety procedures at the workplace.
How to clean using safe work practices:
Keep cleaning products and equipment neatly stored on a trolley and avoid leaving them around the office
Avoid disrupting people around you by keeping noise levels to a minimum when you are cleaning
Don't use too much cleaning products in small, confined spaces where people could be affected by harsh chemicals
Avoid leaving any equipment around on the floor that could be a hazard to others. For example, don't leave something in the way that they could trip over
Follow the workplace health and safety procedures at all times
Be respectful of others and their work by not distracting them.