CPPCLO3003 – Finalise cleaning tasks Copy
Element 4: Finalise cleaning tasks
4.1 – Soil and waste collected from site are disposed of according to client and company specifications, and legislative, environmental, and health and safety requirements
By the end of this chapter, the learner will be able to:
Collect soil and waste from cleaning site and dispose of appropriately, according to client and company specifications

Dispose of soil and waste safely according to legislative, environmental and health and safety requirements.
Disposing of waste
It is important to dispose of soil and waste in a way that is lawful, safe and environmentally friendly. Your organisation should also have policies and procedures in place for the correct management of all waste, and they should provide you with specifications for this. Waste management is an extremely important issue in Australia as waste generation continues to grow, and the nature of waste is changing with more complex goods now a significant part of landfill. As stated on the Australian Government website: 'the National Waste Policy heralds a coherent, efficient and environmentally responsible approach to waste management in Australia. The policy, agreed by all Australian environment ministers in November 2009, and endorsed by the Council of Australian Governments, sets Australia's waste management and resource recovery direction to 2020. The policy covers wastes, including hazardous wastes and substances, in the municipal, commercial and industrial construction and demolition waste streams, and it also covers gaseous, liquid and solid wastes.'
The aims of the National Waste Policy are to:
Avoid the generation of waste, reduce the amount of waste (including hazardous waste) for disposal
Manage waste as a resource
Ensure that waste treatment, disposal, recovery and re-use is undertaken in a safe, scientific and environmentally sound manner, and
Contribute to the reduction in greenhouse gas emissions, energy conservation and production, water efficiency and the productivity of the land.
The policy also sets out six key directions:
Taking responsibility
Improving the market
Pursuing sustainability
Reducing hazard and risk
Tailoring solutions
Providing the evidence.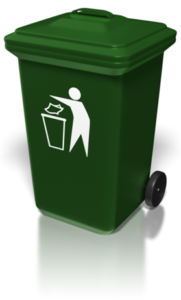 Waste management legislation
Waste management is primarily the responsibility of state and territory governments which regulate and manage waste in accordance with their respective legislation, policies and programs. They have an important role in providing household waste collection and recycling services, managing and operating landfill sites, and providing and maintaining litter infrastructure. The Australian Government is responsible for national legislation, strategies and policy frameworks for waste. Managing waste is not just the responsibility of governments, as many industries and businesses, as well as communities, households and individuals, are involved in waste management and resource recovery.
The table below shows the state and territory waste management legislation and strategies:
Modified from source: Australian Government, Policies and governance for waste: https://www.environment.gov.au/topics/environment-protection/nwp/reporting/policies-and-governance.
You should collect and dispose of the following soil and waste:
Organic soil
Paper and cardboard
Plastics
Metals
Glass (divide this into clear glass, frosted glass, mirrored glass, etc.)
Textiles
Leather and rubber
Debris
How to dispose of waste safely and effectively:
Recycle as much as possible
Separate waste, disposables and recyclable items
Dispose of waste in the correct bins, bags and containers
Make sure waste is deposited in the appropriate place ready for collection
Call specialists to remove extra large quantities and specialist types of waste
Make sure that waste is secure; that lids and fasteners are in place
Make sure waste if safe from theft.
Disposing of chemicals
You will need to dispose of any leftover chemicals very carefully to ensure you don't cause damage to yourself, others and the environment. Before disposing of chemicals, you should check the label and SDS requirements to find out how to do it safely and correctly. You should also consult your local government for guidance, as each state and territory has an Environmental Protection Authority (EPA), which regulates the environment and anything that impacts on it.
How to dispose of chemicals safely:
Designate an area for disposal
Select appropriate containers
Label every container
Empty containers in designated area following manufacturer instructions
Contact professional chemical removers if necessary.
The Hazardous Waste Act 1989 regulates the export and import of hazardous waste to ensure that hazardous waste is disposed of safely to protect people and the environment from the harmful effects of the waste. Hazardous waste is defined as explosive, flammable liquids/solids, poisonous, toxic, ecotoxic and infectious substances.
Modified from source: Australian Government, What is hazardous waste: http://www.environment.gov.au/protection/hazardous-waste/what-hazardous-waste.
4.2 – Equipment, including PPE and chemical products, are returned to cleaning storage area and stored according to legislative requirements
By the end of this chapter, the learner will be able to:
Return equipment, PPE and chemical products to cleaning storage area

Store equipment and products according to legislative requirements.
Storing equipment
The correct storage of cleaning equipment and personal protective equipment (PPE) is the responsibility of everyone who uses the items. Before storing equipment, you should check the manufacturer instructions and workplace health and safety requirements to make sure it is stored correctly and safely. It is important to store equipment correctly for health and safety reasons and for good professional practice. After using equipment, it should be returned to the designated area in a good, clean condition that is ready for re-use. This will improve the efficiency of working practice and reduce the overall cost of maintenance and repairs. Equipment should be well organised, maintained in good working condition and stored in a secure and suitable place so it is easy to locate.
How to store equipment correctly and safely:
Establish designated storage areas for each item of equipment
Make sure storage areas are near the point of use
Label all the different storage areas
Keep PPE equipment well maintained and store in a suitable place
Make sure everyone knows where items need to be kept
Store items in their designated areas at all times
Clean equipment before storing it away
Make sure items are dry before storing them away
Disentangle electrical cords and store in a safe and tidy manner
Make the most of available space
Make sure items are stored safely and securely, locking away any valuable items
Have alarms systems and CCTV cameras fitted to keep equipment secure
Store items in the correct conditions, taking into account the correct temperature, ventilation, and lighting.
Storing equipment in designated areas helps to improve the overall appearance of work areas and keep them tidy. It also ensures you have left working areas clear with no equipment lying on the floor that could be a potential hazard for people walking around.
Storing chemical products
When you have finished using chemicals, it is important to store them away safely in the correct position and place to avoid causing any hazards. It is also important to store chemicals according to manufacturer specifications and workplace health and safety requirements to protect yourself, others and the environment from harm. Special care should be taken to make sure that you do not store two reactive chemicals together, as this can have dangerous consequences. Before you leave the storage area, you should remove any excess waste and place in the appropriate bin for removal. You should also check to make sure the area is left clean, tidy and ready for the next person to use, as this will set a good example for others to follow.
How to store chemical products safely:
Make sure you wear appropriate PPE equipment before handling chemicals
Identify suitable storage areas with sufficient space for the quantity
Consider how long chemicals will need to rest in storage and consider the toxicity of them
Make sure chemicals are stored in appropriate containers, bottles and boxes
Read the label information on containers, bottles and boxes for detailed storage instructions
Assess the state of labels, such as the legibility and condition, and replace if necessary
Check whether storage areas are fitted with adequate safeguards (such as ventilation, sprinkler and alarm systems).
Separate substances that are likely to cause dangerous reactions
Make sure there are appropriate and legible safety signs in view to warn others
Store fragile containers below shoulder height
Make sure all containers and bottle lids are properly sealed to avoid leakages
Do not hold containers at the top; hold them underneath for extra support
Place containers down carefully to avoid spills
Ensure there is adequate space in the storage facility to access chemicals and evacuate quickly if necessary.
4.3 – Quantity and condition of PPE are assessed and need for replacements is reported according to company requirements
By the end of this chapter, the learner will be able to:
Assess the quantity and condition of PPE

Report need for replacements according to company requirements.
Assess and report PPE
Personal Protective Equipment (PPE) is clothing or equipment that is designed to protect the worker against workplace hazards. PPE should be properly stored according to manufacturer's instructions, in a safe and secure place where it cannot be damaged or deteriorate. It should also be stored in a location that is easily accessible for workers. Employees must look after any PPE they use and check it on a regular basis for any damages or faults. This is important to ensure the PPE remains in good working condition, controls the risks and is clean and hygienic for the next person who uses it.
Maintenance should include regular visual inspections before each use to determine if the equipment is damaged and to make sure it will work efficiently. After use, PPE that is reusable should be cleaned and stored in a dry, clean cupboard to maintain its condition. It is important to note that if PPE is damaged, it may not provide the necessary protection which could be dangerous for the person wearing it, so it is important that it is repaired or disposed of appropriately and replaced.
According to Safe Work Australia, 'Personal protective equipment (PPE) must be maintained, repaired or replaced so it continues to minimise the risk to the worker who uses it. This includes ensuring the equipment is:
Clean and hygienic, and

In good working order.'
It is the worker's responsibility to advise their supervisor or manager of any damages, defects and needs for replacements, which should be reported according to company requirements. Workers should also advise their manager if the PPE is uncomfortable or does not fit properly, and they should be provided with a replacement to ensure they can carry out the job safely and efficiently.
Modified from sources: Safe Work, Personal protective equipment guidelines: https://smah.uow.edu.au/content/groups/public/@web/@ohs/documents/doc/uow017046.pdf.