CPPCLO3019 – Plan and prepare to handle waste Copy
Element 1: Plan and prepare to handle waste
1.2 – General waste, contaminated and biological waste and recyclable items are identified according to company requirements, and any issues are clarified
By the end of this chapter, the learner will be able to:
List general, contaminated and biological waste items produced by the organisation
Types of waste
Removing waste and recyclable materials can be a dangerous job and it is important to do it safely. This includes using the correct PPE and being aware of any hazards. Waste collection is conducted as part of a regular cleaning routine, usually on a daily basis and can include a range of materials, such as chemicals, contaminated materials and general waste.
General waste is any waste that can't be recycled but isn't biological in nature and is the main form of waste produced by businesses and homes. It will usually be placed in bins and collected by waste collection services within a week. Although it may contain risks like sharp edges, it is generally considered the safest and easiest to dispose of.
General waste may include:
Drinks

Food packaging

Manufactured foods

Non-recyclable plastics.
Other forms of waste may be more difficult to dispose of. Contaminated or hazardous waste is anything that is harmful to the environment or other people. As a cleaner, you have a duty to ensure it is disposed of properly.
Biological waste is defined as: "any material that contains or has been contaminated by a biohazardous agent", such as bacteria, human or animal cells and viruses. It may be either solid or liquid.
Contaminated and biological waste may include:
Blood and other bodily fluids

Cytotoxic waste

Human waste

Soiled and disposable linen

Syringes and needles.
Identifying waste
You should determine what is contained in the company's waste streams, including estimations of the volume of each amount. These will allow you to make preparations for disposing of them.
Make sure that you are notified if the waste volume is expected to change dramatically, either permanently or temporarily.
Depending on its business, some organisations may have specific waste requirements. For example, they may divide biological waste into different types so it can be disposed of more appropriately. You should be aware of any special categories that are used.
Some waste may be difficult to define, such as when chemical waste is mistaken for biological waste. If you are unsure which category it belongs to, make sure to consult the person responsible for it and don't move the waste yet.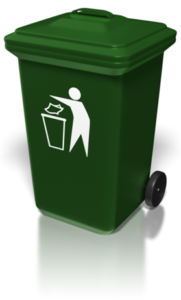 Glossary of terms
As a person in the waste management profession, there will be certain industry terms you will need to know and understand.
The joint Australia/New Zealand standard 3831 has a detailed glossary of relevant terms. This promotes consistency across the industry; what is defined as waste in one organisation will be identical to another. These should be the same across states and territories.
These definitions are available commercially, so your organisation should be able to supply you with a copy of these if necessary.
(Sources: https://infostore.saiglobal.com/store/PreviewDoc.aspx?saleItemID=468339
https://www.gov.uk/dispose-hazardous-waste/overview
1.2 – Work site hazards are assessed and risks controlled according to company, legislative, and health and safety requirements
By the end of this chapter, the learner will be able to:
Identify hazards within the workplace
List appropriate methods to control risks, including:
personal protective equipment (PPE)
other equipment
training and education.
Work site hazards and risks
Hazards are things that may cause harm or an injury to people within an organisation. A risk is how likely the hazard is to cause harm. The types of hazards you will come across will be dependent on the type of organisation that you work within.
Hazards and risks may include:
Biological and environmental contaminants

Chemical exposure via absorption, ingestion and inhalation

Chemical reactivity

Dust and fibre particulates

Electrical

Environmental allergens

Explosions

Fatigue

Fire

Manual handling

Noise

Poor ventilation

Slips, trips and falls

Syringes and sharps

Working in confined spaces.
Eliminating risks
There are a range of possible ways that risks can be eliminated or reduced. One of the most common is PPE (personal protective equipment), such as helmets, gloves, coats and boots. This makes it safer to work in various hazardous conditions. It may be either the organisation or your responsibility to provide suitable PPE for the tasks; you should find this out and ensure it is followed.
You should be educated on any risks in the workplace so you can be aware of this during work. For example, if you are working with chemicals, you would need to know the type and the potential effects.
Good working practices can also reduce the risk to both you and others in the workplace. Certain areas may need to be sealed off for periods for cleaning, using signs or barriers. Areas will also need to be cleaned up when the work there is finished so hazards aren't left to affect others.
Legislation
You should ensure that you abide by Workplace Health and Safety (WHS) legislation. You should understand your rights and responsibilities in the workplace. You must be trained and have suitable equipment to do any work asked of you, and can refuse if you believe it is unsafe. WHS legislation varies according to State.

Workplace Health and Safety (WHS) legislation replaced Occupational Health and Safety (OHS) legislation in 2011.
WHS legislation stipulates that employers must provide their staff with:
Safe premises

Safe machinery and materials

Safe systems of work

Information, instruction, training and supervision

A suitable working environment and facilities.
Industrial chemicals, whether manufactured or imported, are covered by the Industrial Chemicals (Notification and Assessment) Act 1989.
Health and safety requirements
Health and safety requirements are used to make any risky tasks you perform safer. You should know which ones your workplace is required to put in place and report any ones that are missing. If you require any further information about them, you should contact your supervisor.
Health and safety requirements may include:
Access to communication devices when working alone
Compliance with Safe Work Australia regulations and guidelines
Electrical equipment test and tag compliance
Emergency response procedures
Environmental controls
Hazard signs and barricades
Health and safety induction and refresher training
Manual handling techniques
Processes for safely dispensing chemicals
Risk assessment procedures, including:
hazardous chemicals register
hierarchy of control
job safety analyses (JSA) for low-risk situations
safe work method statements (SWMS) for high-risk situations
incident reporting
SDS (safety data sheets for chemicals)
Selection and use of required PPE
Storage and maintenance of equipment according to manufacturer specifications
Use of first aid according to SDS information.
(Source: www.business.gov.au)
1.3 – Equipment is selected according to job requirements, checked for serviceability, and faults are rectified or reported before starting work
By the end of this chapter, the learner will be able to:
Select appropriate equipment for task
Demonstrate how to check equipment for faults and take the appropriate action.
Equipment
Equipment is important in reducing the risks to you and allowing you to complete the job properly. You should identify which ones are required before you begin the task.
Equipment may include:
Bin liners

Cleaning cloths

Damp wiping kits

Litter picker

Long-handled dustpans and brooms

Microfibre products

Nylon pads

Pick-up trolleys

Scrubbing brushes

Sharps kits

Spray bottles

Wheelie bins.
You should ensure you know where they are located within your organisation. Many will have one or more specific storage areas for equipment. It is important that wherever they are kept, they are maintained in a state of proper repair.
If you can't find the correct equipment, raise the issue with your supervisor so they can provide you with suitable replacements as soon as possible. Similarly, you may also need to inform them when you are running low on supplies.
Faults and serviceability
The equipment you use may be damaged. You will need to check it to ensure it is in proper working order. The manufacturer's instructions may provide more information on how to do this for individual pieces of equipment.
Equipment should have been checked for damage before it was previously stored; however, there is a chance the damage may have been missed, ignored or happened during storage. Therefore you should always take time to check it. Even if the equipment is not broken, it may have become worn to the point where it won't function properly.
Most organisations will provide you with tags that should be placed on equipment that is damaged or broken (i.e. exposed wires on electrical equipment). Once you have placed a tag on damaged equipment, place the equipment in the correct location and report the damage to the supervisor so that they can arrange for the equipment to be repaired or a replacement to be found.
You must not attempt any repair on equipment unless you are qualified and authorised. Repairing equipment includes putting gaffer tape around exposed wires on electrical equipment, interfering with or opening damaged equipment. This does not guarantee your safety and will likely void the equipment's warranty. Report it to the appropriate person (e.g. your supervisor) and replace it with working equipment.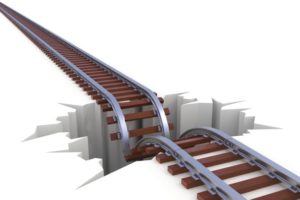 1.4 – Cleaning chemicals are selected and prepared according to manufacturer specifications, and health and safety, and company requirements
By the end of this chapter, the learner will be able to:
Select and prepare appropriate cleaning chemicals for given tasks according to manufacturer specifications
Demonstrate knowledge of how to respond to chemical entry into body or spills
Selecting chemicals
You will need to select appropriate chemicals for the job at hand. Check information about the job to see what you will be required to clean.
Cleaning chemicals may include:
Acid cleaners

Alkaline cleaners

Low environmental impact chemicals

Neutral cleaners

Solvent cleaners.
When you are not familiar with a chemical, it is important to take the time to read the safety data sheet (SDS) for the chemical. Make sure that you know where your employers' policies and procedures are located within the workplace.
It is important you know the properties of chemicals so you can work with them safely. Chemicals will have labels that contain this information.
Chemical labels may include:
Product identifier (the name)
Chemical ingredients if it is a mix (e.g. aliphatic hydrocarbons 95%, toxicole 5%)
Signal words which show the severity of the hazard (e.g. DANGER or WARNING)
Hazard statements which show the nature of the hazard (e.g. highly flammable, causes skin burn)
Precautionary statements, which give advice on how to:

prevent an accident
respond to an accident
store the chemical
dispose of chemicals

Pictograms or symbols of hazards
Other useful information
Name and contact details of Australian manufacturer or importer.
Preparing chemicals may include:
Measuring them

Decanting them (moving from a large container to a smaller container)

Mixing them to an appropriate dilution, usually with water.

Loading chemicals into a chemical dispenser. (This may also mix them automatically.)
If the label isn't present or you can't be sure what chemical it is, you should not use it. This could occur when a chemical has been decanted into a different container or the label has been scratched off.
Routes of entry
When working with chemicals, it is important to be aware of the possible routes of entry for them into the body, and the corresponding symptoms and actions.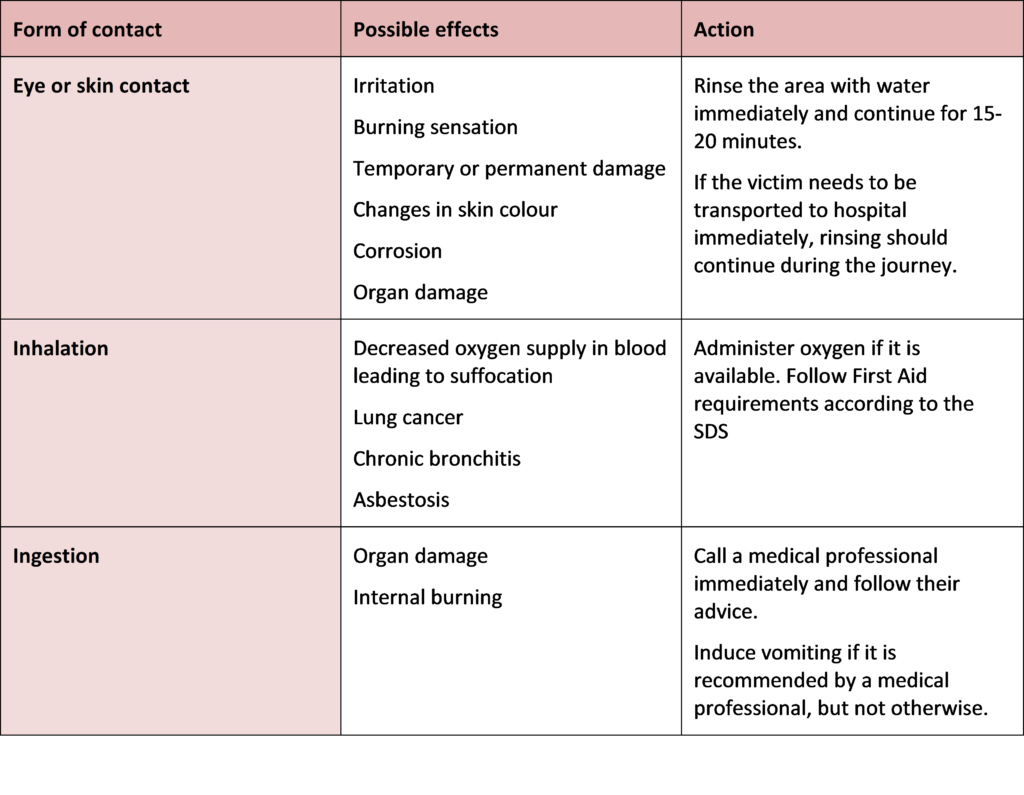 Chemical spills
Chemical spills can potentially be dangerous and time-sensitive; therefore you should read the SDS beforehand so you immediately know how to react in the event of a spill.
Instructions may include:
Contacting the appropriate authorities and organisation owners

Putting on any necessary additional PPE

Putting out signage and barriers to quarantine the area

Acquiring and applying the proper neutralising agent

Labelling and disposing of materials properly

Arranging a hazardous waste collection.
To control the use of chemicals, many companies now provide employees with squeeze bottles. Squeeze bottles are frequently used in closed areas where chemicals tend to linger in the air due to poor ventilation. This may put personnel, clients and customers at risk, especially when they have breathing problems such as asthma. If you are not provided with a spray bottle, ask for one.
If you find that your chemical bottles are leaking, especially at the nozzle obtain a new one. Chemicals can damage surfaces. You may be held liable if a chemical is used on an incorrect surface and does damage to the surface.
You may also need to be aware of the organisation's evacuation plan in case of a severe spill.
Evacuation plans will usually be influenced by where:
Fire doors are

Location of fire reels and fire extinguishers

Exit signage

Location of fire blankets (which will usually be in the kitchen)

The fire detection system/s that are in place including the location of heat sensors, sprinklers and smoke alarms

The places where employees can exit the business.
1.5 – Personal protective equipment (PPE) is sourced and used according to manufacturer specifications, and health and safety, and company requirements
By the end of this chapter, the learner will be able to:
Select appropriate PPE and locate it within the organisation.
Personal protective equipment
Personal protective equipment (PPE) is used to protective yourself against hazards, such as chemical spray or heavy equipment. There are various types which often need to be used together. You should determine what PPE is required by the equipment and job.
Note that PPE should be a last resort. If there is any possible way to avoid using it, such as making the job safer or avoiding it, you should do that instead; however, this will often be unavoidable when working in certain conditions, such as working with chemicals.
Personal protective equipment may include:
Disposable respirators

Eye protection

Gloves

High visibility vests

Protective clothing

Safety shoes

Sun protection

Tongs
If any of the equipment is torn or damaged in any way, you will need to get it changed. Under WHS legislation, your employer can't legally ask you to do a task that you aren't suitably prepared for.
1.6 – Tasks are sequenced to ensure maximum efficiency when completing cleaning requirements
By the end of this chapter, the learner will  be able to:
Determine most efficient order for tasks to be completed, considering:
deadlines
equipment availability
order of tasks
times
Modify sequencing as necessary during work.
Sequencing tasks
Time management is an important skill when you have multiple jobs to do. Therefore, you should sequence them in a way to get maximum efficiency; this means spending the least time and effort to complete the most work.
You will already subconsciously sequence some of your work accordingly. However, it is important to think about this all the time.
When sequencing tasks, you may need to consider:
Deadlines: Which tasks need to be completed first?
Equipment: When are the necessary pieces of equipment and PPE available?
Order: Do some tasks need to be completed before others? (e.g. emptying the bin before cleaning it)
Task times: How long will each task take to complete?
The most important factor is deadlines; these are your organisation's standards for how long tasks should take. For example, if you have to empty and clean two bins by 2pm and 3pm respectively, and they take the same time, then it stands to reason that you should begin the task due at 2pm first.
Consequences of poorly sequenced tasks are:
Running out of time to complete them

Waiting around for equipment to be available

Completing tasks in the wrong order

Redoing tasks.
These all waste time and resources.  It is more efficient to spend time planning tasks beforehand rather than beginning them immediately and having the repeat them.