TLIA0004 – Finalise documentation Copy
Element 3: Finalise documentation
3.1 – Order is checked against schedule and order form
By the end of this chapter, the learner should be able to:
Use order form and schedule to identify problems with order
Resolve problems in an appropriate manner.
Checking order
When you receive products or are preparing to dispatch them, you will need to note and inspect them. This includes ensuring that they match the description in the documentation. It may be impossible to check all large shipments, but you should at least check a sample.
Problems that may occur with goods include:
Damaged stock
Damaged pallets or packaging
Wrong stock
Error in paperwork
Poorly stacked stock
Incorrect quantity
Each organisation will have their own standards and specifications regarding what goods will be considered acceptable. These standards will vary depending on the type of goods that your organisation deals with. For example, if the goods are food then standards may be whether it is damaged at all, whether it has been refrigerated to a safe temperature and whether it is of a suitable size to sell or use in products. You may have checklists to ensure the goods meet your standards.
Aspects of goods to be checked when receiving goods may include:
Correct type
Number
Condition
Quality
Packaging
Labelling
Dangerous goods declarations and markings (where applicable)
You may have to understand where in your organisation the products currently are. If they are in storage, you will need to know exactly where so they can be retrieved quickly.
When you receive the goods, you will need to inspect them to determine they are what you have requested. If they are incorrect or there are any faults with them, you may need to inform the deliverers immediately and refuse the shipment.
If you do not detect problems with goods straight away, it is likely to be more difficult to change it later. Accepting goods often includes signing for the delivery or receiving and acknowledging documentation.
If goods that you are receiving don't match the documentation, you have several options. You could either refuse the delivery and all future deliveries from the organisation, refuse the delivery and request a free replacement within a suitable amount of time or accept the goods. Similarly, if the quantity doesn't match the purchase order, you can cancel the payment and return them immediately, ask the supplier to correct the quantity as soon as possible or pay for the quantity delivered and cancel the remaining delivery.
You may need to resolve problems with:
Your supervisor
The supplier
The courier (if they are present).
3.2 – Workplace records are completed, and labels and appropriate documentation are attached in accordance with workplace procedures and relevant regulatory requirements
By the end of this chapter, the learner should be able to:
Complete workplace records accurately after delivery/receipt
Use labels and documents to convey information about goods.
Records, labels and documentation
You will need to ensure that all records, labels and documentation are completed as fully as possible. If not, you may violate your workplace's policies and legislation. This could lead to disciplinary or legal action.
Workplace records that you may have to complete include:
Manifests
Internal documents recording the movement of cargo
Purchase orders.
You should also record the discrepancies or problems according to the organisation's documents. This will make it useful when following up with goods problems in the future.
Record all relevant information about the goods, including:
The issue or discrepancy
How many of the goods were affected
What has been done to resolve the problem
Contact with the supplier.
Labels and documents are used to provide information to anybody handling or transporting the goods even if they don't know what is in it. You should ensure they are securely attached to the goods; if they fall off, they should be replaced immediately.
Labels may include:
Warnings
Australian Dangerous Goods Code information (see Chapter 3.4 for more information)
Information about weight
Hazard labels.
Think about what information deliverers or employees may need to know when handling or unpacking the goods. You should ensure they can do this as safely as possible.
When completing documents for transport, you may come across the terms consignor and consignee. The consignor is the person who sends it, while the consignee is the person who receives it. Generally, the consignee is financially responsible for the goods, and will therefore pay for the shipping or delivery.
3.3 – Special transportation requirements are identified and conveyed to appropriate personnel
By the end of this chapter, the learner should be able to:
Communicate special transportation requirements to the appropriate personnel in relevant ways.
Transportation requirements
As mentioned previously, goods may have special transportation requirements. You will need to identify these from documentation and your own knowledge of the products.
The exact requirements will vary, depending on how the goods are transported. This could be done by road, rail, air, sea or a combination of them.
Goods may need to be transported:
Quickly (e.g. for perishable goods)
Temperature controlled
Segregated so that potentially reactive goods don't mix with each other
Smoothly (e.g. for delicate goods).
If you have transported similar or identical goods before, you can refer back to that documentation and the results of it. For example, if the temperature for the goods were set too high last time, causing damage to them, you would know that it needed to be lower this time.
You may need to provide special instructions to other people involved in the transportation of the goods.
These may include:
Drivers
Couriers
People loading the goods
Employees transporting the goods internally
It would be most reliable to provide the information to the people in writing so they can refer back to it. (This could be as a letter, note or email.) However, you may also wish to do it verbally to confirm that they have understood. Make sure that you answer any questions they have.
3.4 –Required documentation for dangerous goods and hazardous materials is completed in accordance with regulatory requirements
By the end of this chapter, the learner should be able to:
Research relevant aspects of AGD Code
Complete documentation in accordance with AGD code.
Dangerous goods and hazardous materials
Legislation is in place to control the movement of dangerous goods and hazardous materials around Australia. You should research which aspects of it apply to you and your organisation and ensure that you follow it closely.
The ADG Code means the Australian Code for the Transport of Dangerous Goods by Road and Rail, 7th edition, approved by the Australian Transport Council. The ADG Code is accessible at the National Transport Commission website: www.ntc.gov.au
Dangerous Goods are substances or articles that are hazardous to people and property. You will likely come across flammable and corrosive chemicals at some point. A lot of care is needed to handle, store and transport these chemicals.
The Dangerous Goods Handling Regulations are designed to prevent accidents and to provide safety standards to protect the community, the worker and the environment from the effects of fires and explosions.
The 9 hazard pictograms that are representative of the physical, health and/or environmental hazards are: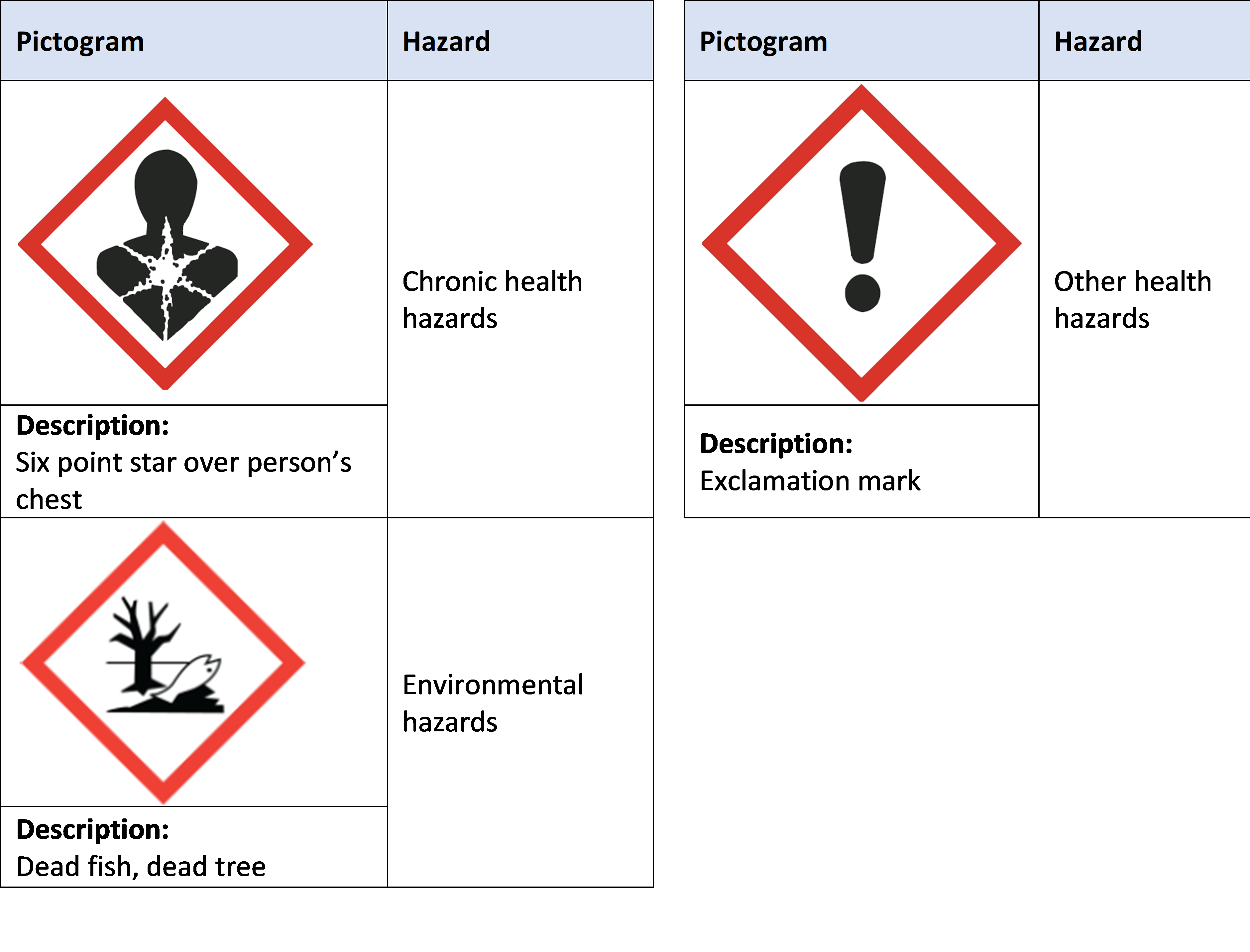 International Maritime Dangerous Goods
The International Maritime Dangerous Goods Code applies to the transportation of dangerous or hazardous goods by sea. The aim is to prevent harm to employees involved with the transition and reduce pollution to the sea. The code covers the loading and unloading of goods.
Substances are divided into classes:
Class 1: Explosives
Class 2: Gases
Class 3: Flammable liquids
Class 4: Flammable solids
Class 5: Oxidising substances and organic peroxides
Class 6: Toxic and infectious substances
Class 7: Radioactive substances
Class 8: Corrosive substances
Class 9: Miscellaneous dangerous substances and articles.
Emergency information
Containers will likely include information on what to do in case of an emergency. The definition of an emergency will vary depending on the type of goods, but may include fire, leaking goods or spillages.
Chemical SDSs (Safety Data Sheets) contain a variety of information on emergency responses, including:
Firefighting measures (including type of fire extinguisher, hazards from the burning chemical, required PPE and other precautions)
Accidental release measures (including methods and materials for cleaning up, required PPE)
Exposure controls (how to eliminate or minimise risks associated with exposure to hazardous chemicals)
Toxicological information (including effects of chemicals due to inhalation, ingestion or skin contact)
Ecological information (including effect on the environment, organisms, animals and the ozone layer)
Disposal considerations (including how to safely dispose of it, e.g. incineration, landfill).