TLIA2013 – Check and inspect goods on arrival and complete workplace documentation Copy
Element 2: Check and inspect goods on arrival and complete workplace documentation
2.1 – Procedures for checking goods against orders or manifests are identified and followed
Checking goods
As discussed earlier, when you receive goods, you will need to check them to determine whether they meet your requirements. This should be done systematically with the use of a checklist or by comparing the goods against the purchase orders and manifest. If you identify any discrepancies, you will need to report it to your supervisor and the supplier immediately.
Ideally checking goods should be done when they first arrive and the driver is still on the premises; however, for large shipments this may not be possible.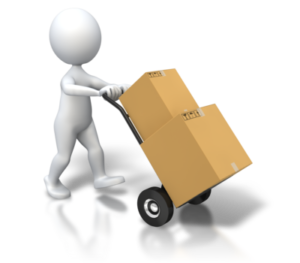 Problems that may occur when receiving goods include:
Damaged stock

Damaged pallets or packaging

Wrong stock

Error in paperwork

Poorly stacked stock

Incorrect quantity.
Each organisation will have their own standards and specifications regarding what goods will be considered acceptable. These standards will vary depending on the type of goods that your organisation deals with. For example, if the goods are food then standards may be whether it is damaged at all, whether it has been refrigerated to a safe temperature and whether it is of a suitable size to sell or use in products. You may have checklists to ensure the goods meet your standards.
Aspects of goods to be checked when receiving goods may include:
Correct type

Number

Condition

Quality

Packaging

Labelling

Dangerous goods declarations and markings (where applicable).
If the goods don't match the purchase order, you have several options. You could either refuse the delivery and all future deliveries from the organisation, refuse the delivery and request a free replacement within a suitable amount of time or accept the goods.
Similarly, if the quantity doesn't match the purchase order, you can cancel the payment and return them immediately if they are no use due to the quantity delivered, ask the supplier to correct the quantity as soon as possible or pay for the quantity delivered and cancel the remaining delivery.
In each situation, you may need to discuss it with your supervisor and the supplier to determine the best course of action.
It is more efficient to work in groups to check large orders against manifests. However, teamwork is needed in order to arrive at the correct totals when multiple people are working. Be sure to communicate clearly and follow established orders.
2.2 – Discrepancies and/or damaged goods are reported
2.3 – Non-conforming goods are appropriately documented and despatched or stored in accordance with company procedures
Dealing with discrepancies
There may be various discrepancies or problems that will make the goods unfit to use. When you identify these, you will need to report them to the appropriate people.
These may include:
Your supervisor

The supplier

The courier (if they are still present.)
Communication may be done in person or by telephone, email, fax, or website complaint forms. You should report the issue as soon as possible after you identify it; this will make the supplier more likely to correct the error. If you identify that the goods are broken straight away as opposed to a week later, you will be more likely to be believed.
You should be clear and polite when reporting issues. If speaking to the supplier, respectfully request that they replace the damaged or inappropriate items free of charge. Do not become emotional or angry as this is less likely to produce results.
Documentation
You should also record the discrepancies or problems according to the organisation's documents. This will make it useful when following up with goods problems in the future.
Record all relevant information about the goods, including:
The issue or discrepancy
How many of the goods were affected
What has been done to resolve the problem
Contact with the supplier.
If possible, create evidence of the problem with the goods. This could be photos, video or expert witness.
You should also document all contact you have with the supplier. This could help back up your case regarding compensation. For example:


Storing or despatching
Depending on whether the goods need to be sent back, you should either prepare them for storage or despatch them back to the supplier.
If you return them, you may either use the packaging that was provided (if it isn't damaged) or provide new packaging; in this case, you should remember to use all signage and codes that were on the original package to warn handlers about hazards. (These will be covered in more detail later).
You may be able to charge the supplier for the cost of returning items or be entitled to a refund. You should contact them regarding this first to be sure.
If you need to store the goods while the discrepancy is being resolved, you should transport them to the designated storage areas, as described in Chapter 3.4.