TLIA2013 – Identify workplace procedures and documentation requirements for receiving goods Copy
Element 1: Identify workplace procedures and documentation requirements for receiving goods
1.1 – Workplace procedures for receiving goods are identified
Introduction
Almost every workplace will receive goods of some type in order to conduct their normal operations, particularly within the transport and logistics industry. This unit will cover the skills and knowledge required to do this safely, in accordance with regulatory and workplace requirements. It will explain how to identify workplace procedures and documentation requirements for receiving goods, check and inspect goods on arrival and complete workplace documentation, and unload, unpack and store stock.
Workplace procedures
You should identify all relevant work procedures that apply to you. This can be done by speaking to your supervisor or other colleagues and checking your handbook.
Workplace procedures may include:

Company procedures

Enterprise procedures

Organisational procedures

Established procedures.
They may relate to:
Record keeping

Health and safety compliance

Checking goods

Obtaining receipts or purchase orders

Accepting or refusing shipments

Placing procedures in inventory or storage.
If you do not comply with workplace procedures, you may have disciplinary procedures, such as warnings, demotion or firing. If you cause a severe accident, you may even face legal actions.
Record keeping
You should maintain records of what goods have been received. This will enable you to check or refer back to it later. There may also be legal requirements to keep stock of what goods you have on-site in your organisation, particularly if they are potentially hazardous. Therefore, you should always record what goods have been delivered and whether they have been returned or placed into storage areas.
Common documents used in record keeping for received goods include manifests, purchase orders and checklists.
To ensure accurate record keeping, you should:
Record all information required by organisation documents
Follow workplace procedures for recording and submitting information
Correct any incorrect information.
Health and safety
Receiving goods may be dangerous, particularly when large objects are being transported, loaded or unloaded. You should follow procedures which keep people and property safe.
Workplace Health and Safety legislation applies in every workplace. WHS legislation varies slightly by State; you should be familiar with the Act or Acts that apply to your organisation.
As a worker under Section 28 of the Work Health and Safety Act 2011, you must:
Take reasonable care of your health and safety in the workplace
Take reasonable care that you do not miss hazards and take no action that will affect the health and safety of others
Comply with reasonable instruction by your employer or their representative.
The regulations that affect your organisation will vary depending on the types of hazards and goods present within the workplace. Although all unpacking activities may involve hazardous manual tasks, other workplaces may also have to consider hazardous chemicals, work in confined spaces, noise, construction work and other factors.
Accepting or refusing shipments
When you receive the goods, you will need to inspect them to determine they are what you have requested. If they are incorrect or there are any faults with them, you may need to inform the deliverers immediately and refuse the shipment.
Goods may be refused based on:
Incorrect quantity

Poor quality (e.g. visible damage, defects)

Incorrect deliveries.
If you do not detect problems straight away and accept a shipment, it is likely to be more difficult to change it later. Accepting goods often includes signing for the delivery or receiving and acknowledging documentation.
1.2 – Purpose of documents associated with receiving goods is interpreted
1.3 – Workplace documentation requirements for receiving goods and reporting damage are identified
Purpose of documents
You will have to use and correctly complete a wide range of documents associated with receiving goods. This will help to identify and resolve problems with the order quicker than if you accepted the goods without checking and tried to rectify them later.
Documents may include:
Goods identification numbers and codes
Manifests, picking slips, merchandise transfers, stock requisitions and bar codes
Codes of practice and regulations relevant to the receiving of goods
Australian and international regulations and codes of practice for the handling and transport of dangerous goods and hazardous substances
Operations manuals, job specifications and induction documentation
Manufacturers specifications for equipment
Workplace procedures and policies
Supplier and/or client instructions
Dangerous goods declarations and material safety data sheets (where applicable)
Award, enterprise bargaining agreement, other industrial arrangements
Quality assurance procedures
Emergency procedures.
Manifests
Manifests are documents used to summarise the contents of a delivery, including the items contained within, their condition and quantity.
Each manifest relates to a particular journey, whether by land or sea.
Manifests will contain information about:
The consignor (the seller who is delivering the goods)
The consignee (the purchaser of the goods; your organisation, in this case)
The destination and origin of the goods
The items contained and their quantity
The value of the items
Hazard warnings (e.g. flammability, explosiveness)
Packaging type
International travel, such as:

country and port of origin
immigration information.
For example: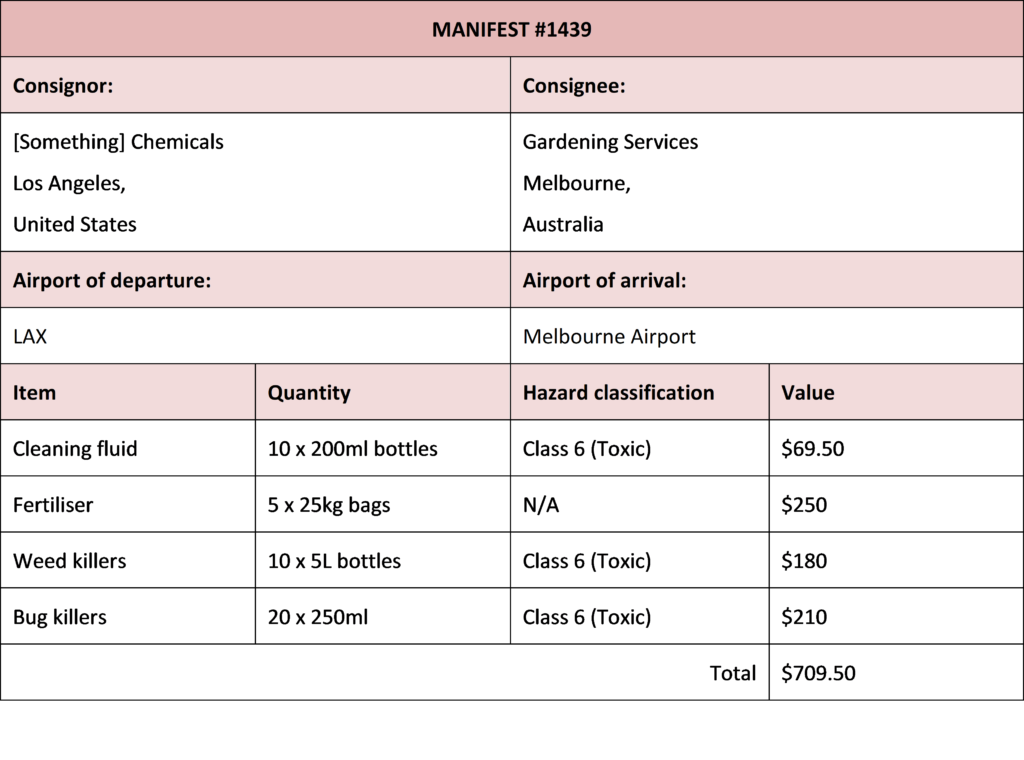 The manifest should also include the contact details of all parties, including the company that shipped the goods, in case you need to contact any of them.
Purchase orders
The most common method of ordering stock from a supplier is completing a purchase order form. These will specify the type of product, the quantity and the price. Each purchase order will have an individual number that you will need to coordinate with your supplier. If you have different numbers, it can cause significant problems for you.
A purchase order is effectively a legal offer to purchase the goods and services from your supplier in exchange for payment. In existing supplier relationships, the delivering and processing of the order will usually have been agreed beforehand. However, in new relationships, you will need to discuss how this will be handled, such as who is responsible for the cost of shipping. Remember to use a purchase order number to track these discussions.
Finally, ensure that payment is made in accordance with the purchase order. If there are any problems with the items such as delays, discuss this with the supplier as this may affect payment. Any unresolved issues are likely to have a negative impact on the relationship.
Checklists
You may be required to complete a checklist when you receive the goods to determine whether all of your organisation's needs are met. Note that not all delivery people will want to wait while you perform these checks; only sign for the goods without completing the checks if you can sign for them as 'unchecked'. This gives you the right to return them if you identify problems.
Problems that may occur include:
Wrong goods being delivered

Incorrect quantity (either too many or too few)

Incorrect billing (either too high or too low)

Damage to goods that prevent them from being used safely or being sold to customers.
You should be especially careful of damage to hazardous products. If the containers which corrosive or toxic chemicals are in are damaged, they can easily leak out, contaminating other goods and causing harm to people in the workplace.
When you identify damaged goods, you could:
Refuse the delivery and ask for a refund or redelivery

Accept the goods, writing on the form that they are damaged, with the option to have them replaced later.
It is important to make the supplier aware immediately that they are damaged. Try to get any phone conversations backed up with written documentation as evidence. Otherwise, you may not be able to prove it wasn't you that damaged the goods.
You will also need to inform your supervisor quickly and complete appropriate documentation. You should fully describe the damage and the impact this will have on the products. Even if they are dented, they may be suitable for internal use. For example:
Reading
It is important you read, interpret and follow a range of written information around the workplace. This will help you work safely and achieve results quickly.
This may include:
Instructions from supervisors, colleagues or others

Workplace procedures and information, which may be found in organisation handbook

Labels on containers and goods

Signs in the workplace (e.g. relating to hazards).
If you need any accommodations made to signage due to language barriers or poor eyesight, you should inform your supervisor immediately. Translations or pictograms can make them easier to understand.