TLIA3004 – Identify and check containers/cargo Copy
Element 4: Identify and check containers/cargo
4.1 – Containers/cargo are identified and checked at point of entry to yard and prior to stacking
By the end of this chapter, the learner will be able to:
Check at least five containers/cargo at point of entry
List three symbols from the ADG code and their meaning.
Checking containers/cargo
Containers or cargo need to be identified so that they are handled, stored and processed properly. When receiving deliveries, it also ensures that correct contents have been delivered.
It is important to do this as soon as possible, such as when the container enters the yard. If this is not possible, it should be done prior to stacking.
You may need to identify:
Container/cargo's contents

Destination or origin

Method of transport

Special precautions (e.g. temperature control, fragile cargo)

Hazards (as discussed below).
Australian Dangerous Goods code
Legislation is in place to control the movement of dangerous goods and hazardous materials around Australia. You should research which aspects of it apply to you and your organisation and ensure that you follow it closely.
The ADG Code means the Australian Code for the Transport of Dangerous Goods by Road and Rail, 7th edition, approved by the Australian Transport Council. The ADG Code is accessible at the National Transport Commission website: www.ntc.gov.au
Dangerous Goods are substances or articles that are hazardous to people and the property. You will likely come across flammable and corrosive chemicals at some points. A lot of care is needed to handle, store and transport these chemicals.
The Dangerous Goods Handling Regulations are designed to prevent accidents and to provide safety standards to protect the community, the worker and the environment from the effects of fires and explosions.
The nine hazard pictograms that are representative of the physical, health and/or environmental hazards are: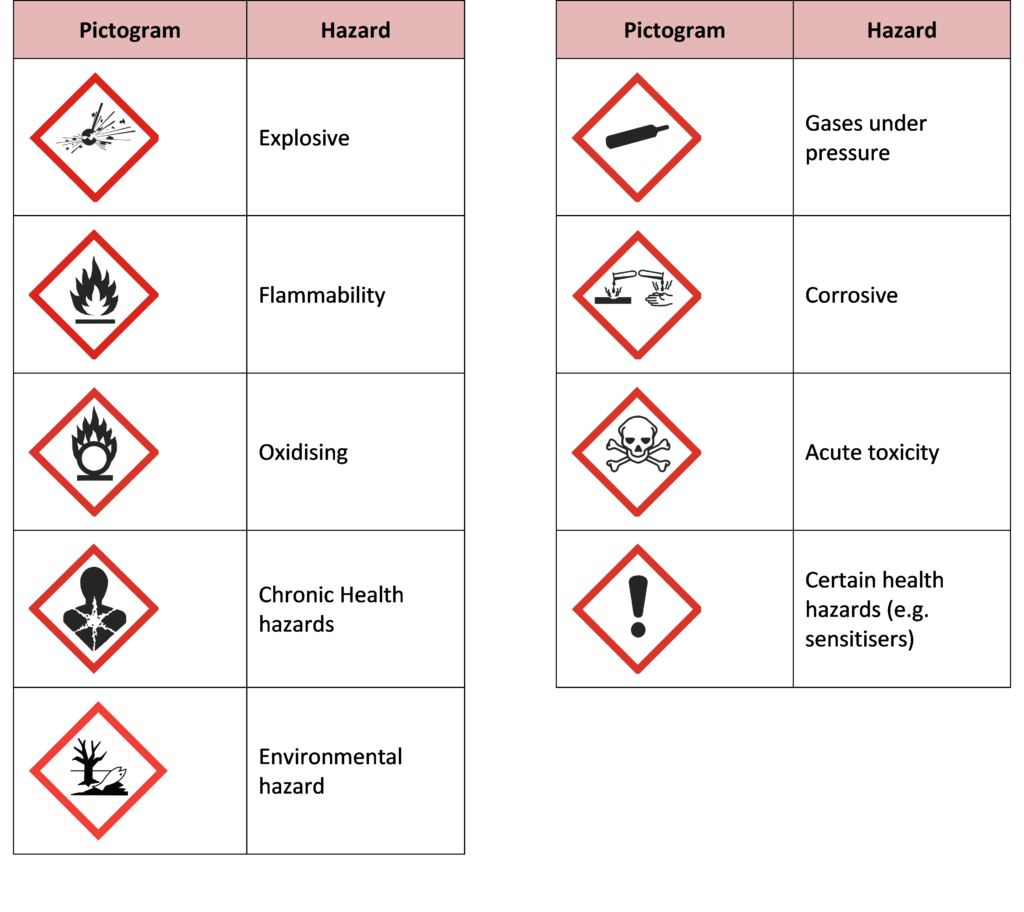 (Source: 'National Transport Commission. http://www.ntc.gov.au/. )
International Maritime Dangerous Goods Code
The International Maritime Dangerous Goods (IMDG) Code applies to the transportation of dangerous or hazardous goods by sea. The aim is to prevent harm to employees involved with the transition and reduce pollution to the sea. The code covers the loading and unloading of goods.
Substances are divided into classes:
Class 1: Explosives
Class 2: Gases
Class 3: Flammable liquids
Class 4: Flammable solids
Class 5: Oxidising substances and organic peroxides
Class 6: Toxic and infectious substances
Class 7: Radioactive substances
Class 8: Corrosive substances
Class 9: Miscellaneous dangerous substances and articles.
A full list of the sub-classes and symbols for each are available at: http://www.arkasline.com.tr/en/dangerous_cargo___imo_codes_and_symbols.html
(Source: 'Classification of Dangerous Goods', Arkas Line. )
Emergency information
Containers will likely include information on what to do in case of an emergency. The definition of an emergency will vary depending on the type of goods but may include fire, leaking goods or spillages.
Chemical SDSs (Safety Data Sheets) contain a variety of information on emergency responses, including:
Firefighting measures: These may include the type of fire extinguisher, hazards from the burning chemical, required PPE and other precautions
Accidental release measures: Methods and materials for cleaning up, required PPE
Exposure controls: How to eliminate or minimise risks associated with exposure to hazardous chemicals
Toxicological information: effects of chemicals due to inhalation, ingestion or skin contact
Ecological information: Effect on the environment, organisms, animals and the ozone layer
Disposal considerations: How to safely dispose of it, e.g. incineration, landfill.
4.2 – Agreement between numbers and marks on container/cargo and shipping documentation is confirmed
By the end of this chapter, the learner will be able to:
Explain how the ISO 6346 numbering system is used to identify containers/cargo
Confirm that the numbering on three containers matches their shipping documentation.
Agreement between container and documentation
Numbers and marks on containers and cargo are used to identify containers and cargo, both when they are being transported and when they are in a terminal/yard. They should be consistent across all documentation to ensure they can be track.
ISO 6346
One internationally used numbering standard for containers and cargo is ISO 6346. It comes in the format of four letters followed by seven numbers, such as CSQU3054383.
The first three numbers denote the ownership; each code is unique for an organisation, although an organisation can have more than one.
The fourth letter is the category identifier; they could be:
J: Detachable freight container related equipment
R: Reefer (or refrigerated) containers
U: Freight containers
Z: Trailers and chassis.
The first six digits are the serial number. This is given by the cargo's owner and isn't shared with any others they use, enabling it to be distinguished. This is followed by a check digit, which is used to verify to serial reference is authentic.
Under the ISO system, containers may also use codes to denote their ground, size or description. For example, '20GP' signifies a General Purpose container.
In addition, containers will likely also contain their country of origin, size and type.
(Source: 'ISO6346, Container Container. https://www.containercontainer.com/ISO6346. )
Shipping documentation
The codes and other marks on containers need to match those on the documentation provided.
As mentioned earlier, container documentation may include:
Bill of landing

Delivery notes

Invoices

Manifests

Consignment notes

Internal packing notes.
The bill of landing is a legal contract demonstrating an agreement between the exporter and shipping company to transfer an agreed set of cargo. (It also demonstrates ownership of the cargo and can be used to ensure payment.) The bill must be submitted from the ship to the terminal before goods are unloaded; otherwise, it is considered invalid.
Confirming agreement may require you to:
Visually inspect the container for codes

Check the documentation, whether paper or digital

Determine whether the codes match

Investigate any reasons for disagreements, following organisational protocols.
(Source: 'Introduction to Cargo Marine Management', Mark Rowbotham. Accessed: 20th September.)
4.3 – Cargo/containers are inspected and appropriate action is taken to report identified damage or defects in accordance with workplace procedures
By the end of this chapter, the learner will be able to:
Inspect three cargo/containers for damage or defects.
Report one example of damage according to your organisation procedures.
Inspecting cargo
Damage or other issues with cargo and containers may jeopardise the contents of it. Therefore, regular inspections need to be undertaken to check them for damage or other defects.
Cargo inspections should be undertaken according to organisational procedures. For example, workplaces may choose to inspect cargo when it first arrives and they take responsibility for it. Checklists or other formal documentation may be used to assist the inspection. These should be completed fully and accurately.
Cargo inspections may look for:
Damage to container (e.g. dents, cracks, holes)

Damage to locks, bolts or seals

Damage to handholds

Loss of cargo (e.g. shortages, theft).
If the outside of a container has damage or defects, open it up to check for similar damage inside. If possible, do this with a member of the delivery team still present to show it hasn't been tampered with. Involve them in the inspection so you can come to an agreement about the type and extent of damage.
There are two types of damage:
Visible damage or loss, which is apparent when the container was delivered (also known as noted loss)
Concealed damage or loss, which wasn't apparent but occurred before the cargo was delivered.
Refusing a shipment because it has been partly damaged is impractical and wasteful.
Any damage or defects should be responded to quickly. If they aren't reported and the contents of the cargo suffers further damage, your organisation or people within it made by held liable for the damage.
Appropriate action may include:
Documenting the damage or defects

Reporting it to relevant personnel, either formally or informally

Repackaging the contents of the cargo (or instructing others to)

Putting a notice on the cargo

Claiming for damage to the containers or cargo if relevant.
Methods of reporting defects may be either formal, such as completing documentation, or informal, such as verbal or other written communication.
When reporting damage, try to be as specific as possible. 'Container damaged' isn't clear enough, especially since the owner may need to get insurance companies involved. '10-inch tear in container side' is much more specific; visual evidence like photographs can also help.
(Source: 'Cargo loss and damage claims', Comox Pacific. https://www.comoxpacific.com/forms/CPECargoLoss.pdf. )
4.4 – Stacking plans are followed and efficient movement within the yard is facilitated
By the end of this chapter, the learner will  be able to:
Research and summarise one safety Code of Practice or regulation that should be followed when carrying out stacking plans
Suggest how efficient movement of containers/cargo could be improved in their workplace.
Stacking plans
Stacking plans should be followed in accordance with safety codes and legislation.
Note when stacking containers that information on them may change or may not be fully known when plans are first created. For example, the contents of a container may change or documentation may be delayed in arriving. Therefore, you need to respond to changing implementation and modify stack plans accordingly.
Pallets and containers must be stacked in a manner that takes into consideration the load bearing capabilities of those on the bottom of the stack. For example, a box containing books should not be stacked on top of a box containing fragile items, as there is a strong possibility that the fragile items will not be able to bear the weight of the books and may become damaged or broken completely. When stacking goods, therefore, be sure to place heavier goods at the bottom of the stack and avoid stacking goods which are fragile or easily damaged.
There are a number of stacking styles that may be used to ensure the safety and security of goods.
These include:
The column stack

The pyramid stack

Stepped stack

Lean-to stack.
Safety codes
SafeWork Australia's model Code of Practice for hazardous manual tasks is available online here: https://www.safeworkaustralia.gov.au/system/files/documents/1705/mcop-hazardous-manual-tasks-v2.pdf
It is relevant to people who carry out manual handling tasks, as well as those who manage the workspaces where they occur or the employees who do.
It covers:
Identifying hazardous manual tasks

Assessing risks

Eliminating, minimising or controlling the risks

Reviewing control measures.
The hierarchy of risk control (with the most preferable being at the top and the least at the bottom) is:
Elimination: The job is redesigned so there is no longer a hazard to anyone
Substitution: The job or materials are replaced with less hazardous ones
Engineering controls: Work equipment or other measures are used to reduce the risk (e.g. dangerous machinery is put behind a screen)
Administrative controls: Procedures are put in place to help employees work safer (e.g. reducing time that the hazard is present, safety signage)
Personal protective equipment (PPE): Clothing or equipment to minimise harm to personnel (e.g. hard hats to protect from falling debris, gloves to protect from burns).
(Source: 'Model Code of Practice: Hazardous Manual Tasks', SafeWork Australia. https://www.safeworkaustralia.gov.au/system/files/documents/1705/mcop-hazardous-manual-tasks-v2.pdf. )
Other model codes of practice covered a wide range of potentially hazardous workplace activities are available here: https://www.safeworkaustralia.gov.au/resources_publications/model-codes-of-practice
Safety codes of practice may be required for:
Confined spaces

Heights and falls

Labelling and handling of hazardous chemicals

Noise and preventing hearing loss

Stevedoring

Plant (including machinery, equipment, containers, implements and other tools)

WHS consultation.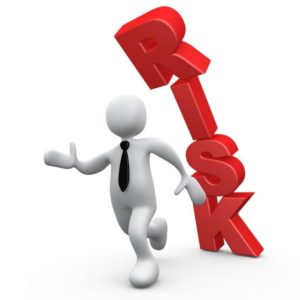 (Source: 'Model Codes of Practice', Safe Work Australia. https://www.safeworkaustralia.gov.au/resources_publications/model-codes-of-practice. )
WHS legislation
Receiving goods may be dangerous, particularly when large objects are being transported, loaded or unloaded. You should follow procedures which keep people and property safe.
Workplace Health and Safety legislation applies in every workplace. WHS legislation varies slightly by State; you should be familiar with the Act or Acts that apply to your organisation.
As a worker under Section 28 of the Work Health and Safety Act 2011, you must:
Take reasonable care of your health and safety in the workplace

Take reasonable care that you do not miss hazards and take no action that will affect the health and safety of others

Comply with reasonable instruction by your employer or their representative.
Environmental protection legislation
It is important that organisations work in an environmentally sustainable way, to preserve the environment for future generations. Federal, state and local governments jointly administer the environmental protection laws in Australia through bilateral agreements.
Environmental legislation and codes of practice which apply in your state or territory includes:
Guidelines in environmental legislation may include:
Reducing and recycling waste

Preventing run-off or contamination from hazards like chemicals

Investing in more efficient machinery with less emissions

Reducing transport and other machinery use through more efficient planning

Using renewable energy rather than fossil fuels

Minimising noise and light pollution

Minimising impact on surrounding environment (e.g. wildlife, water, plants).
Equipment and PPE
Equipment and PPE may be required in order to conduct work tasks safely. To determine where they are required, conduct a risk analysis and determine whether the items would control or mitigate the risks.
Equipment may include:
Cranes

Lifts

Hoists

Chains

Ropes

Slings

Hooks

Shackles

Eyebolts

Rope and pulley systems

Forklift trucks.
You should ensure you are trained in using lifting equipment. These requirements may be both legal and organisational. You should also not have any injuries or impediments that would prevent you from using the equipment properly, as this may put yourself or others in danger.
(Source: 'Lifting Equipment and Operations', University of Warwick. https://www2.warwick.ac.uk/services/healthsafetywellbeing/guidance/lifting_equipment/. )
PPE will give you protection when undertaking work tasks; this should be used or worn as and when required. It should be used according to product instructions, fit correctly and be comfortable to use/wear. All staff needing PPE should be given full training on how to use and access these items safely and appropriately.
PPE includes:
A safety harness if picking or packing at height

Steel toe-cap shoes or boots

Work overalls

Communication headset

Safety gloves

Head protection, e.g. hat or hairnet

Protective eyewear/goggles

Ear protection.
Staff should ensure that items of PPE are maintained; this includes cleaning items after use and safe handling to keep these in good working order. If stock items of PPE (e.g. disposable gloves) are running low, make sure that you notify the relevant person so that PPE is always available. If items do not fit correctly or cannot be used due to health reasons (e.g. an allergy to latex gloves), notify your supervisor or manager so this can be addressed.
Efficient movement
Every movement of containers in a stack requires time, resources and manpower; therefore, it is important to make sure every move is efficient and serves a purpose. As discussed previously, stacking containers with the most imminent departure times on the top and vice versa is considered good practice, as they won't need to be re-ordered.
Putting all containers in a stack of one would remove the difficulty to access them, but is an efficient use of space which would increase transportation time. Therefore, a balance needs to be found between the container's differing needs.
Another method of ensuring efficient movement is ensuring that containers are stacked close to the ship they come off and will go back onto; this saves time transporting them.
Outcomes of efficient movement include:
Reducing opportunity for cargo to become damaged

Monitoring and limiting shrinkage (the loss of stock through theft or waste)

Improving security of cargo.
(Source: 'Stock control policies and procedures', DLSWeb. https://www.dlsweb.rmit.edu.au/toolbox/retail/toolbox/index.htm?unit_ci/concepts/cic0201.htm.)
In order to facilitate efficient movement, you will need a floorplan of the yard or warehouse. This should map the different storage areas available and any specific requirements, such as chilled storage areas.
The site layout will likely include obstacles, such as:
Boxes

Storage areas

Pallets

Furniture

Uneven floors

Stairs, steps or ramps.
You may be able to make changes to the layout to make it more efficient. Consider areas where cargo commonly has to be transported between, and whether they could be brought closer together. Also think about where you most often need to go, and whether it is easy to access.
Methods of improving efficiency may include:
Tracking where containers move within the yard

Planning ahead and consolidating movements (for example, moving three containers in one go rather than moving one container on three separate occasion)

Taking into account cargo/containers' contents (for example, empty ones can be moved more easily than full ones)

Introduce staff incentives for productivity and meeting targets

Implement IT systems to monitor and plan cargo movement

Investing in more efficient machinery.
(Sources: 'How to manage an effective warehouse', Tim Aldred, The Guardian. https://www.theguardian.com/small-business-network/2014/jan/03/how-to-manage-effective-warehouse. 'Efficient Intermodal Terminals Deliver Supply Chain Benefits', Freight Best Practice. http://www.hamshallrailterminal.co.uk/admin/content/files/site/FBP1128%20Efficient%20Intermodal%20Terminals%5B1%5D.pdf.)
4.5 – Documentation is checked prior to performing completion procedures, in accordance with workplace procedures and regulatory requirements
By the end of this chapter, the learner will be able to:
List three possible regulatory requirements that could affect checking documentation.
Checking documentation
Documentation will need to be checked to ensure it complies work regulatory requirements. These are any workplace, state or federal regulations regarding the labelling or documentation of cargo and containers.
Regulatory requirements may include:
Relevant codes and regulations for the receiving of goods
Australian and international regulations and codes of practice for the handling and transport of dangerous goods and hazardous substances, including:

Australian and International Dangerous Goods Codes
Australian Marine Orders and the International Maritime Dangerous Goods Code
IATA Dangerous Goods by Air Regulations
Australian and international explosives codes

Quarantine restrictions
Water and road use and licence arrangements
Export/import/quarantine/bond requirements
Marine orders
Relevant state/territory WHS and environmental protection legislation
Workplace relations regulations
Workers compensation regulations.
Quarantine
Not all items can be brought into the country due to quarantine requirements. Goods which are made from or include animal products (e.g. skins, hides, furs, feathers) will need to be declared on arrival. Some goods will require import permits and others will be banned under international wildlife legislation, and may be seized. It is therefore important to research this beforehand.