TLIE3002 – Estimate load limits of transport and/or storage Copy
Element 2: Estimate load limits of transport and/or storage
Allowable load limits for storage and/or transport systems are identified in accordance with workplace procedures
By the end of this chapter, the learner should be able to:
Identify weight and size limits of loads for different transport and storage systems
Follow organisation policies to maintain the safety of storage systems.
Identifying allowable load limits for transport
Identifying the load limits prior to beginning an order will help you to organise and arrange loads more constructively than working with no or minimum guidelines. As already mentioned in a previous chapter, the allowable load limits for transport systems will depend on the method of transportation being used, as well as relevant legislation.
Road transport
The most commonly used method of domestic transport is often road; this may be because Australia has the heaviest allowances for road transport across the globe. For road transport, there are regulations in place which limit the total weight of cargo; this includes the weight of the vehicle and the goods it is carrying.
For example, MTF logistics provide guidelines of weight limits to follow for road transport:
(Modified from source: http://www.mtflogistics.com.au/files/road-weight-limits.php)
The above table outlines only one example of guidelines to follow for road transport vehicles; there are various rules and regulation for different types of vehicles and their purpose. For example, general access and restricted access vehicles have different sets of allowable load limits to follow.
Australia also has the use of vehicles called road trains, which are exactly as the name would indicate. Road trains are train-like trucks which provide cost-effective transportation for large loads. They tend to be used in rural or remote areas because of their size.
Fun fact: Australia is home to the largest road train in the world, with 110 wheels in total. It is known as 'The Centipede'.
The allowable load limit of the vehicle being used may be included in a work order form. You should be able to identify this information where it is provided and consistently refer back to it when processing cargo for the vehicle.
Other methods of transport
Depending on your organisation and the transportation methods it uses, you may have to be aware of the allowable load limits for different means of transport, for example, railways.
Similarly to road transport, allowable load lim
its for rail transport will depend on the type and the size of the vehicle being used for transportation.
For example:
Identifying allowable load limits for storage
The form of storage that your organisation has available will determine the allowable load limits. For example, the Australian standard pallet has a weight restriction of 2 tonnes. However, the Australian standard pallet is much smaller than the standard pallet used in other countries. Factors such as this need to be considered when looking at the load restrictions of your own storage unit as goods coming in may need to be spread to distribute the load according to restrictions.
Pallet racking
Pallet racking is a common method used within a warehouse environment as it increases the storage space available, helps to organise goods, and is a generally sturdy and safe method of storage.
There are two key capacity regulations for racking units and they should never be exceeded.
They are:
Maximum unit load – unit load is an individual stored item g. a pallet having material that can be placed or retrieved in one operation
Total rated capacity for each bay – total weight of unit loads stored on a bay must not exceed the rated capacity of the bay.
Organisation policies
When storing goods, you need to be aware of the procedures in place within your organisation. Your organisation should help you to determine the restrictions of the storage system that they provide and ensure that these are fully functioning and safe to use.
For example, your organisation should:
Maintain racking systems in good condition. Repair or replace damaged shelves and racks

Display the manufacturer's specified safe weight on racking and shelving

Provide safe access to and in storage areas.
Alongside organisational maintenance, you should work within the guidelines provided to maintain the safety of storage areas and equipment.
You can maintain the safety of storage units by:
Make sure the total weight is even and stable

Consider balance characteristics of products before storing

Never overload storage systems

Use storage systems only in the way that you have been trained to do so.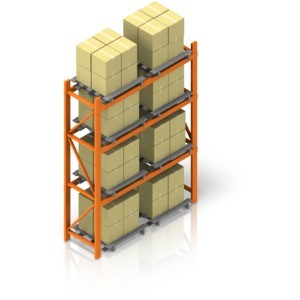 2.2 – Capacity of transport and storage systems in terms of mass, area and volume is calculated
By the end of this chapter, the learner will be able to:
Use the correct formulas to determine the mass, area and volume of different transport and storage systems
Use appropriate equipment to measure mass.
Once you are aware of the allowable load limits for the transportation and storage areas available, you also need to identify the measurements of the transport and storage systems which are going to be used. This will include being able to calculate mass, area, and volume.
Earlier in the guide, we discussed the benefits of making estimations rather than working on exact calculations. Whilst these still stand, sometimes exact calculations will be required – particularly where safety and legislation are involved. Calculating the capacity of transport and storage systems will enable you to plan load weights and sizes which are appropriate for different systems.
Calculating Volume
As mentioned earlier, the volume of an object refers to its internal capacity. Volume is calculated by multiplying the length, the width, and the height of an object:
Length x Width x Height = Volume (Cubic Centimetre).
As shown above, volume is measured in cubed metrics, so it will be easier to transfer any measurements to centimetres or millimetres. Think about how you would measure the volume of an object shaped like a cube.
For example, cube: (L) 3m x (W) 3m x (H) 3m = 27m3 (volume in cubic metres).
Of course, not all calculations will be this simple, especially if the shape of storage or transport systems are different, or in separate sections. Different formulas will be required for different shapes.
Calculating Mass
If your organisation does not provide equipment to identify the mass of an object, or the mass of a vehicle is not provided by the manufacturers, you may be required to do your own calculations.
As mentioned in an earlier chapter, to calculate the mass of an object or an area, the volume and the density need to be multiplied together:
Volume x Density = Mass
Maximum authorised mass
For road transportation, the legislation regarding mass limits may differ. The maximum authorised mass determines the allowable weight of a vehicle including the weight of the vehicle itself and its cargo. It may also be referred to as gross maximum weight. This will often be determined by the manufacturers of a vehicle.
Higher Mass Limits (HML)
Focusing again on road transportation, some vehicles will be entitled to additional mass entitlements in order to increase the productivity of vehicles on the road.
Higher mass limits allow particular heavy vehicles to access additional mass entitlements providing:
Operators of vehicles or combinations running HML on tri-axle groups are accredited under the Mass Management Module of the National Heavy Vehicle Accreditation Scheme (NHVAS), with an accreditation label fitted to the hauling unit
Vehicles are fitted with certified road-friendly suspension
Vehicles are on an authorised HML route.
(Taken from source: https://www.nhvr.gov.au/road-access/mass-dimension-and-loading/higher-mass-limits )
Calculating Area
Calculating the area of an item can be relatively straight forward for simple shapes such as rectangles or squares. You can find this by following the formula Width x Height. However, this can be more difficult for different shaped items.
When making exact calculations, you need to be able to select the correct formula for the shape of the product. For example, to calculate the area of a cylinder you will need to use the formula:
2πrh+2πrsquared.