TLIL1001 – Participate in identifying and meeting own learning needs Copy
Element 5: Participate in identifying and meeting own learning needs
5.1 – Workplace operations and equipment, and focus of the activity are identified
Workplace operations
A workplace operation is any task or job that contributes towards the end service or product. You should identify what occurs within your workplace whether you are involved in all operations or not.
Common workplace operations include:
Ordering stock

Receiving and storing stock

Performing transactions

Completing deliveries

Advertising and promoting products or services

Providing customer service

Processing salaries.
For each activity, it is important to identify the purpose and focus of the workplace operation. For example, advertising products is done to make potential customers more aware of the service/product, and to make it seem more attractive. It may be focused on a particular group (e.g. young people, women, people interested in sport) and could be conducted through specific media (e.g. TV, magazines, social media.)
Workplace equipment
Equipment and technology
Equipment will vary according to the type of work carried out in a workplace. For example, a shop will likely use a till, a computer to track stock and communication devices to talk to other employees. You will likely be introduced to the various pieces of equipment used during your induction.
You will need to understand the purpose of each piece of technology and equipment so that you choose it for the appropriate tasks. You should also ensure you have the appropriate training to do so. This may include formal training sessions or another colleague showing you how to use it.
The physical characteristics of equipment include its size, weight and height. These may be relevant if you have to manoeuvre equipment around the workplace. For example, heavy or awkwardly shaped equipment may take two or more people to carry. Never attempt to move items unless you are confident you can do so safely.
Functions of equipment may include:
Protecting employees from harm

Facilitating communication

Gathering or accessing information.
Technology may include:
Computers

Printers/scanners

Phone systems

Internet facilities.
You should identify the uses for equipment in your work place. For example: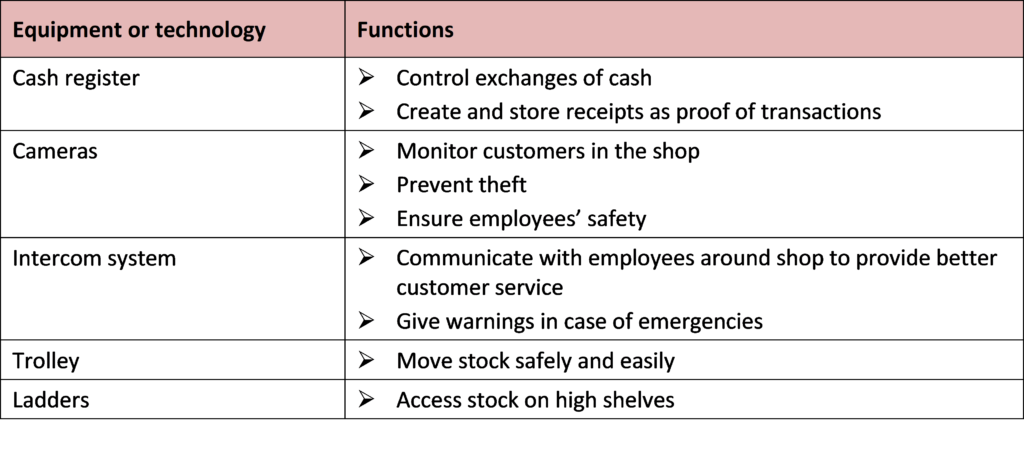 You may have to be aware of any WHS implications of the equipment. For example, you might not be able to use ladders or trolleys until you have been trained to do so. Consider whether using the equipment in some way might have the potential to cause harm to yourself or someone else.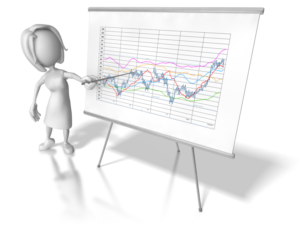 5.2 – Organisational structure, career paths and training opportunities appropriate to the enterprise are identified
Organisational structure
During inductions, you will likely be introduced to more people than you can remember. However, it is important you understand who they are and how they fit into the overall organisational structure. This will affect how you communicate with them and give or receive instructions.
You may have to consider:
Who you take instructions from

Who you work with

Who you give instructions to.
In larger organisations, you will likely also have to work with different structures of managers and employees. Therefore, you should be aware of the entire structure within your organisation and the relationships between different departments and occupations.
An organisation chart is helpful for displaying the structure and hierarchy of the organisation. It gives a visual representation of the position of various team members and management involved with the project and makes it easy for team members to see who they need to communicate with.
An organisation chart can be as simple or as complex as needed. They may also have photographs of the individuals under each job title for ease of recognition. Organisation charts can be sent to team members or hung up in poster form for reference.
Organisation chart example:
Training opportunities
Training opportunities may include:
Attendance at courses

Career planning

Coaching

Flexible learning

Job rotation

Mentoring

On-the-job training

Professional development

Staff exchanges

Succession planning.
Career path
The growth of an employee through an organisation (or organisations) is described as their career path. For example, they may begin working in a shop stacking shelves before being promoted to a shift manager and eventually a general manager. Movement on the path may be vertical, in which the person is promoted and has more responsibility, or lateral, in which they move into a different area with the same amount of responsibility.
When you begin working in an organisation, it can be helpful to know the different possible career paths. This could be done by examining the organisational structure chart or speaking with your supervisor. There may be training courses that could improve your chances of progression.
You should identify:
Your intended long-term (e.g. 20 years) and short-term (e.g. 3 years) career goals

Possible routes or paths for achieving those goals

Development opportunities to reach your goals

Skills, knowledge and experience you need to develop

The strategic direction of the organisation and whether your goals are compatible with this.
5.3 – Steps are taken, in consultation with appropriate personnel, to identify own learning needs by assessing and planning future work requirements
Learning needs
It is important that you are always able to complete work. Therefore, you should assess your future work requirements to determine whether your current skills are suitable; if not, you will need to take action to improve them.
'Learning needs' are defined as an identified gap between the required skills or knowledge and the person's actual abilities.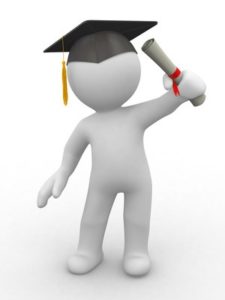 Learning needs may include:
Becoming familiar with a new workplace and role

New procedures and processes

New technology

Workplace-specific learning needs

Knowledge of new organisation products or services

Time management and planning skills

People skills (e.g. negotiation, communication)

Record keeping or data collection skills

Change in workplace priorities.
Identifying learning needs
There is a range of ways to identify your learning needs. The most common method is looking at your previous work for instances when you felt unprepared or couldn't complete it properly. This thought process could also be conducted as a formal or informal discussion with your supervisor or other employees.
You could also compare your job position description with your current skills or abilities. It isn't uncommon for people to be hired without fulfilling every single requirement of a job description; however, once you are in the role, it is your responsibility to seek and obtain the required training. Your job position document will usually be available from your supervisor.
5.4 – Appropriate opportunities to learn and develop required competencies are undertaken including establishing networks and working relationships with others
Opportunities to learn and develop
Once you have identified your learning or development needs, you should undertake some of the training opportunities identified in Section 5.2.
Establishing networks
Establishing a network of contacts is important for your professional development. People both in and out of the organisation can assist in a variety of work areas.
Contacts may be able to:
Help you develop skills

Refer clients

Identify or provide opportunities for you to progress in your career

Offer assistance or advice when necessary.
To build a network, you should introduce yourself to people as often as possible. This includes people you work with, other companies and people at conferences. Give potential contacts a business card and a short 'elevator speech' to memorably describe yourself in under 30 seconds.
Once you have established a connection, look for ways to help the other person. These don't need to be large, as long as they show you are thinking of the person and are keen to build a relationship. For example: "I saw this article the other day that might help with the problem you were talking to me about. I hope this helps!"
You should treat the other person respectfully and follow through on any promises you make, such as to introduce them to another person. Once your relationship is sufficiently developed, you may be able to ask them for favours.
Working relationships
It is also important that you develop good relationships with the people you work with. Even if you aren't friendly with them, you should be able to work and communicate effectively with them.
To develop rapport with colleagues, you should consistently show that they can trust you. Whenever you promise to do something, you should follow through with it. Taking responsibility for your actions will also make you seem more trustworthy.
Good communication is also an important aspect of working relationships. You should always be clear in your meaning and consider how your words will be interpreted. Something that may not be offensive to you could be considered rude by someone of a different age, gender, race, religion or nationality. Therefore, you should try to be inclusive in your language.
Conflict has the potential to damage working relationships. You should try to see other people's perspectives and respect their views, even if you disagree with them. When negotiating or debating, you should try to remain polite and focus on the arguments, not the person behind them.
Other ways to establish and maintain working relationships include:
Actively listening to the person and considering their needs

Avoiding gossiping and office politics

Trying to be positive, as this improves the mood of others

Taking time to appreciate others and their work

Speaking to people you haven't worked with for a while to maintain the relationship

Identifying what each person needs out of the relationship.